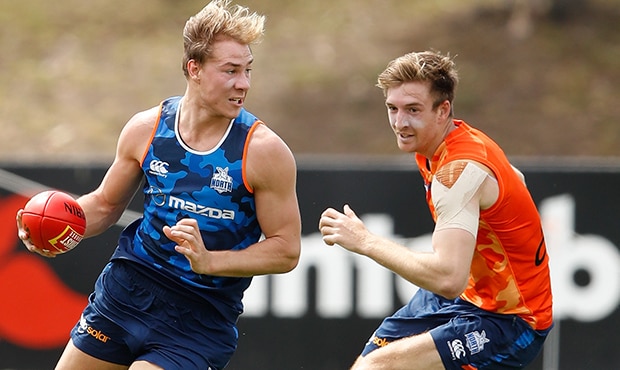 The future of North Melbourne's defensive unit is in good hands.
Sam Durdin and Ben McKay have excelled for the Roos' VFL side this season, mounting solid individual cases for senior selection, while cementing their spots on David Loader's team sheet.
But it's the pair's unique understanding of each other's game that sets them apart.
"We're a young list at North Melbourne, myself and Benny are trying to take a step forward with our progress as footballers," Durdin told North Media.
"It's been pretty important and we've worked hard on learning the game plan to make sure we carry it out on the field."
In spite of disappointing results in back-to-back performances against Richmond and Essendon, the duo has shown resolve, providing composure in defence.
"We've been working pretty hard after training on our high-balls and contested marking," Durdin said.
"It's good that it's paid off already this year. Benny's been really solid on that front with his game. Hopefully he can continue that and put his best foot forward to get a senior game, he definitely deserves it.
"I haven't seen him (McKay) lose a single one-on-one battle this year. He's been very solid, his strength in marking contests has been outstanding."
McKay's value was underlined last weekend against Richmond with the big man limiting Tigers' leading goal threat Mabior Chol, who was eventually moved to the ruck.
"What makes Ben a good player is that he can beat his opponent, but also impact and support others like myself."
The sentiment of Durdin was echoed by McKay, who was equally complimentary when assessing the strengths of his teammate, citing his leadership and recent form.
"We've had to stand up with this being such a young team," McKay told North Media.
"There's a lot of first and second year guys around us so we need to start showing some leadership.
"That's where our game has gone up to another level, which is good. Our leadership has really come out and that's helped us play good footy. It's something we both base our game around."
Durdin has been an ever-present authority, taking contested marks against a variety of opposition numbers.
"When he's marking the ball, reading the play and coming up, it seems to help our game," McKay said of his teammate.
"Reading the ball in the air and impacting is something he does really well. If he can't mark it, he'll spoil it. He's clean at ground level and his ball use has been really good as well.
"I love playing with him. His aerial work is something he prides his game on and that's coming out in colours at the moment."
If Durdin and McKay can maintain their recent form, it appears likely that call-up to the AFL side for both is a mere formality.
Their cases were given further credence today with Brad Scott highlighting the pair's progress in his weekly media conference.
"There are a couple of guys that have been in outstanding form and that we'd like to get in our side have been [Sam] Durdin and [Ben] McKay," Scott said.

"But (Scott) Thompson, (Robbie) Tarrant [and] (Majak) Daw are occupying their positions at the moment.
"We're really pleased with the way they're going, but we just can't quite find the opportunity."
VFL Senior Assistant Coach Ben Dyer has been equally as impressed by the emerging backs.
"Between Benny and Durds, they're real shining lights for us at the moment," Dyer said.
"Put it this way, if they weren't down there the opposition would be kicking a lot more goals than they are at the moment.
"They both setup very well, and they're both getting really good at coming off their man and impacting the contest."
Fans are invited to attend Saturday's VFL match against Port Melbourne at North Port Oval, with the first bounce at 2.00pm.
The views in this article are those of the author and not necessarily those of the AFL or its clubs