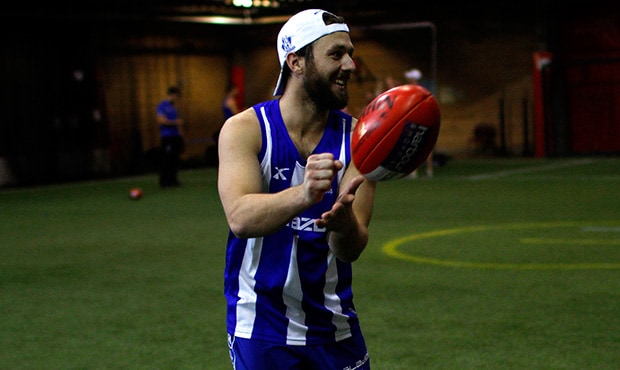 Scott McMahon
can sum up his season with a simple sentence; 'Disappointing start, disappointing finish pretty much'.
It's this admission alone that drives the 27-year-old.
One of the first picked two seasons ago for his cool head and experience under pressure, the defender is quick to acknowledge he's coming from a long way back.
"It was more frustration than anything. I was just frustrated that the season started as it did with not being able to do pre-season at all and then also doing the ankle at training which is never a good thing. I don't think my confidence was down, it was just a (expletive) year pretty much," he told NMFC.com.au.
With just one game to his name after Round 11, McMahon couldn't win his spot back but he isn't letting a bad run dampen his spirits.  
"If I didn't think I was going back into the team I probably wouldn't be here. I'm sure that's the same for everyone on the list.
"You are just making up numbers if you don't think you are going to make the team and then you are not taking it seriously enough. I do think I can get back in the team and make a really good impact."
Alongside Sam Wright, McMahon travelled to Utah a week early to get some extra work under his belt. It could be the first stepping stone towards changing his fortunes.
"Pre-season is one of those things that I'm sure not many look forward to, but I was actually excited because I haven't done one in a couple of years. I'll hopefully get the fitness-base back up and play some really good footy.
"I've still got a fair way to go to get where I want to be, but it's a good start just being able to actually train at this time of year."
So far in Utah, McMahon's running has noticeably improved and while there's no doubting his ability, getting back in favour with the coaches is another challenge.
"I think Brad's (Scott) biggest thing is just to get the fitness back to where it needs to be and make sure I stay on top of that and also just make sure my body holds up where I'm able to do the majority, if not all of the training.
"That's the biggest thing for me. If I don't keep up with the core and all that, my body's just going to break down again."
Wednesday was the toughest day so far in preparation for 2014 and it spanned more than nine hours. While it proved physically demanding, McMahon passed the test.
"I definitely didn't enjoy it, but it was a good thing to do. I haven't been able to run this early for a good time and last year I couldn't even kick 10 metres at this time."
A veteran of seven seasons, the number 42 is ready for success.
"I think we have improved out of sight. The guys that were 18 are now 20, a lot more mature and understanding the way Brad wants to play and being able to do it for a whole game.
"Everyone on the list has improved. It's time to reap the rewards of all the hard work that we have put in during the previous for Utah trips and pre-seasons.
"Hopefully I'll play every game and we'll make finals."
Stay tuned for a special feature as NMFC.com.au follows Scott McMahon's training day in Utah.