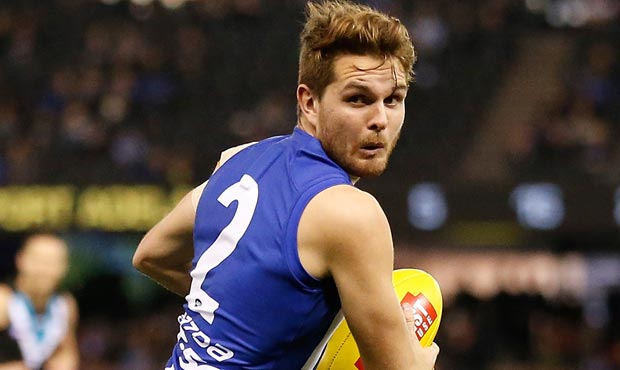 North defender Brad McKenzie is feeling at ease across the half-back line after having played more games in a season than ever before.

The 23-year-old will line up in his 12th match of the year in Saturday night's clash against the Western Bulldogs, eclipsing his previous best efforts of 10 senior games in each of the 2013 and 2014 seasons.

After making just one appearance last year (against Richmond in round 23), McKenzie is yet to miss a game since the win over Essendon in round eight.

McKenzie said he was pleased with his season to date, particularly in the last three weeks, but refused to get too carried away.

"This is my longest stint in the AFL which is good for me … and I'm feeling comfortable there the more I'm playing," McKenzie told NMFC.com.au.

"Excluding the Richmond game, it was nearly two years since I played an AFL game, so it was a fair while out of the game but (I'm) much more comfortable now and working well down there.

"I want to keep continuing my performance, and getting better as a player and helping out the team."

McKenzie hobbled off the ground in the final quarter against St Kilda last week after receiving a knee to his right shin from Luke Dunstan.

The 186cm backman, who returned to the field after a short spell on the bench, said he was ready to go after getting through training this week.

McKenzie revealed his "biggest challenge" this year was overcoming the steep rise from VFL to AFL level, especially the time needed to adjust to the Roos' preferred style of play following his extended stint in the twos.

He has played 52 games in the VFL since being recruited by the club with pick No.18 in the 2011 national draft.

"It's always difficult coming from VFL and it's such a big step up, so having more regular games has helped with the form," McKenzie said.

"It's definitely helped playing game after game this year … and I feel like I belong."

McKenzie said entering each training session and match with three weekly focus areas had allowed him to get the best out himself, with his work rate off half-back, positioning in contests and using his trusty left-foot kick all high on the list.

He added sharpening his defensive skills and playing alongside North's more experienced backmen had been a rewarding experience and one that he hoped would continue.

"I've always liked reading the play, and being down back you see a lot from behind the footy, so I feel like I'm confident down there," McKenzie said.

"It's been great getting an opportunity to play 11 games already this year, and learning off 'Tazza' [Robbie Tarrant], 'Ats' [Shaun Atley], 'J-Mac' [Jamie Macmillan], 'Turbo' [Scott Thompson] and 'Spud' [Michael Firrito] … has helped me a lot as a defender and player."