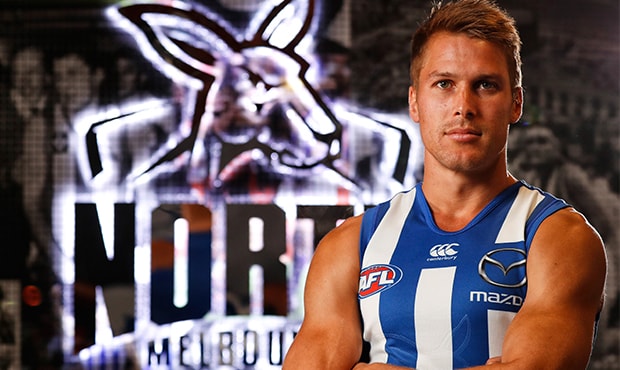 It's been too long – far too long. Since the club's digital media manager Rob Burton shelved my world famous blog Follow Swallow a few years back, I've led a silent campaign to relaunch it.
I fought long and hard to secure its return and I finally got my way today.
For those of you who never had the pleasure of reading my blog, you can find some old Follow Swallow's here. It was the most read article on NMFC.com.au during its reign and there's no indication that anything will be any different this time around.
Since I made my last award winning entry, a lot has happened. I'm a father now to a beautiful baby girl Isabelle and I handed over the captaincy. I built a house, I finished my uni course (bachelor of business) and am doing my level two coaching course.
There's been a lot of change on the field too so there's plenty of new ammo for me to fire and new players to tell you all about.
So where do I start?
Perhaps we go right to the top of the tree, considering its fresh in my mind and involves our new leader, Jack Ziebell.
Today I saw a truly disgraceful act and something I would never have dreamed of doing as captain - using my position to skip a line. I don't even think Boomer would have done what Jack did.
As we prepared to board our Virgin flight to Hobart, the queue extended back a fair way. All the boys had lined up single-file in the economy line and were waiting patiently when Ziebes flew past us on the outside. He crossed the line to the Priority Boarding line and was heard saying to the flight attendant, "It's okay, I'm the captain, I don't have to wait." Not to be confused with the real captain of the flight, Ziebell forced his way on to the plane much to the bemusement of his fellow Shinboners.
Also concerning pre-flight was Lachlan Hansen being placed in an exit row. When the flight attendant asked him if he was, "Fit, willing and able" to operate the door in an emergency, he replied, "Yeah, I'll be sweet. I can pull the cord." Cord? What cord Lachy?
Making matters worse, upon hearing that his queue-jumping was being scrutinised, he moved to clarify it saying, "It wasn't because I'm captain, it's because I'm a Velocity Gold Member and it's my right to join the Priority Boarding line." It was about as shocking as Cam Zurhaar's bank account balance.
Ziebes' stunt was not unlike that which Cameron Mooney pulled at Etihad last week when he forgot his media pass and told the security guard, "I reckon three premierships says I can come in."
Speaking of getting into places, word has it that Shaun Higgins has been struggling to get a hair appointment of late.
I'm told this is due to two reasons;
1. He has more haircuts than anyone I've ever known and is trying to set a record for the most haircuts in a calendar year
And;
2. Because his head is so massive, they can't complete the cut in one sitting so he has to make back-to-back appointments. Apparently they do the sides in the first session and then move to the top of the head if time permits. One time they tried two hairdressers on either side of his bonce but it wasn't sustainable. The other issue is that the haridresser's arms get tired.
Onto haircuts of a different kind and Scott Thompson has had a bit trimmed off his annual salary after being rubbed out for whacking Patrick Dangerfield.
To his credit though he reached out to 'Danger' but not without strings attached. Word is Scooter used his newly developed SMS app called 'Emotit' to message him, but Patty didn't reply because he didn't want to download it and didn't know what it was. Scooter's hopes of the best player in the AFL using his little invention were dashed. If Danger had've used it, I reckon his text message would have been coloured red to show he was still angry about the incident.
There's always lot of stuff going on and interstate trips are a great time for us to get to know each other better. Being down here in Hobart reminds me of the time that Mitch Hibberd, a Tasmanian, told us that his family home was 150m long. When we didn't believe him, he tried to call up and image on Google Maps to prove it but it didn't help his cause.
Maps aren't a strong suit for the younger players I've discovered. When the development coaches recently challenged Mitch and some other second year players to draw a map of Australia, the results were jaw-dropping. In one of the drawings which did not resemble Australia at all, one of the boys had South Australia above the Northern Territory. It's particularly concerning for Ryan Clarke though who went to Melbourne Grammar – apparently. I managed to get a photo of one of the maps here.
I thought they would have learned something about Australia and the other countries in the Commonwealth, but one day I pressed Clarkey about the Queen and what the Commonwealth meant and he thought I was talking about the bank. When I told him it had nothing to do with the bank, he suggested it could be about the Pope, then he thought it related to all the wealthiest countries in the world.
Having such a young group has really revitalised the team this year and brought about a lot of excitement and renewed enthusiasm. We've just revealed Shinboner 1000 with Sam Durdin set to play against the Giants and we are all thrilled.
Sam comes from a tiny town in South Australia called Halidon – it has a population of six! He was telling us about a sheep on their family farm that can turn a tap on. Apparently one year, the Durdin's went on holiday and the sheep decided to get a drink but forgot to shut the valve off to the water tank. Water gushed out for days and when the Durdin's returned, they'd lost half their water for the upcoming summer. He swears it's a true story.
Durds is a great young guy and will do the club proud. On Friday morning he was honoured to have the Shinboner of the century, Glenn Archer, present him with his jumper. Having Arch back is always a thrill and the players are in awe of him. Mixing the past with the present enhances the culture and really puts things into perspective.
Taylor Garner is also doing his best to retain a piece of history about the place by naming himself 'The Fridge' – it's the same name Mark Roberts went by when he played for the club back in the 1990s.
Garns says he got the name because when he tackles blokes, it's like they've been hit by a fridge and also because the coaches are always telling him to 'cool down' during drills because he goes in too hard.
That'll do it for now I reckon, I hope you've enjoyed the return of Follow Swallow. It's going to be a fun year and I'm glad you're all on board to enjoy the ride.
Until next time, go Roos!