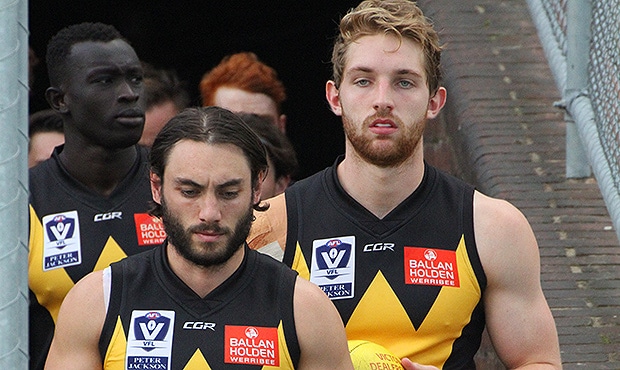 After injury hampered Daniel Nielson's first two seasons at North Melbourne, the key-defender is finally getting a clear run, and making an impact.
Nielson played "by far his best game at VFL level" for Werribee on Sunday, according to Development Manager Ben Dyer and continues to build his form and confidence.
"I was talking to the coaches after the game and it's sort of a combination of all things starting to come together," North's number 26 told NMFC.com.au.
"During the first couple of weeks I might have been trying to get the defending right, but then I can't get up to support, or I'm supporting but not defending as well. It was good to actually get it to combine and all come together during the game."
After just ten games at VFL level heading into his third season, continuity is key for the 2014 draftee.
Nielson looked the most comfortable he has in the air since arriving at the club, pulling down several strong marks in the Tigers' win.
"I've been riddled with injury for the last couple of years, so it's good to get the confidence now," he said.
"The confidence is massive; just being able to go for those marks and know you've got support from the teammates around you."
Nielson understands he still has a long way to go, but is building every week.
"The first half of the year is just about getting the continuity and making sure my body's right, and to play consecutive games, " he added.
"In the second half of the year I'll be trying to keep improving my game, that's been a goal every single week. Hopefully I'll improve enough that I can grab a spot in the team and get my first debut, and go from there."