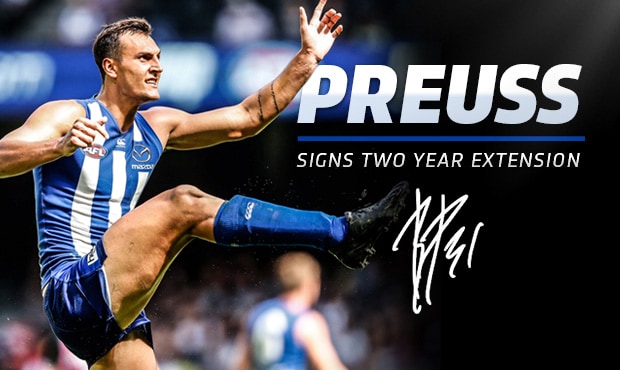 Braydon Preuss has penned a two-year contract extension with North, keeping him at Arden St until at least the end of 2020.
"I'm bloody excited, it's really good to get it [the contract] done," Preuss said.
"We've got heaps of young guys coming through and everyone here obviously wants to stay because we're all re-signing, so the players obviously know there is something big happening."
The 22-year-old debuted in Round 1 this year after being picked up with selection 15 in the 2014 Rookie Draft.
While his rapid improvement sparked speculation of a potential move, Preuss said he never considered leaving North.
"It was just trade period talk," he said.
"People start rumours from nothing but I was contracted for next year and it never crossed my mind and the club knew that."
The 206cm rugby-convert has continued to grow under the guidance of Todd Goldstein and Majak Daw.
"We can't afford to have any slack days with our training or playing because if one of us drops off form-wise, there's another bloke ready to play and take the spot. We all have different strengths, we're all completely different players so it's good for us and the club."
Preuss said chasing Goldstein down to gain the No.1 ruck spot will be a tough challenge, but one he's ready for.
"He's a pretty good rabbit [Goldstein], especially in pre-season with the running – every running session I think I had him beaten, then in the last 100m he'd just smash me. He's one of the best in the business."
Preuss averaged 23 hit-outs across his eight games and continued to impress with his ability to make his presence felt around the stoppages.
North GM of Football Cameron Joyce said the sky is the limit for the big man.
"One of our strengths will be the depth of our ruck division and the further development of players like Braydon.
"He moves extremely well for someone of his size, he's got a great pair of hands and can take a really strong mark - and to think he only started playing football at 17."
Preuss will kick off his pre-season campaign this weekend, when the club's younger players travel to Utah for a two-week training camp.