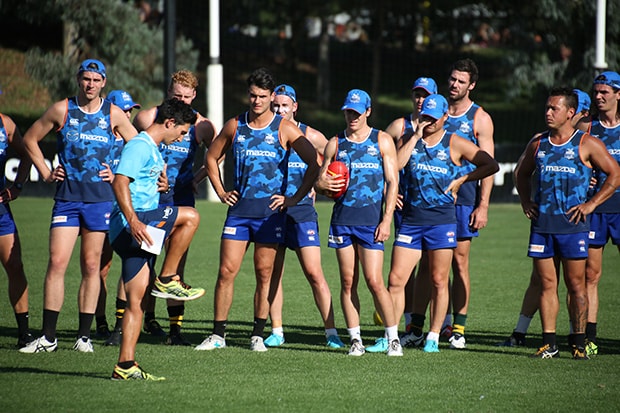 It's less than two months until North's standalone VFL team plays its first official match, and with the full squad now in place, it's time to profile the 24 players.
Profiles compiled with VFL List Manager Nick Byrne.
Fraser Cameron
"Fraser is a talented young utility who marks the ball well and will contribute in a variety of roles. He showed promise with a very strong Collegians side in the VAFA in 2017, and has made significant physical improvements in his time with our program so far. That help him in the step up in competition and assist him showing his football talent."
Fraser Cameron.
Michael Close
"Michael joins us with significant experience after his time on Brisbane's list. He can play any role through the spine and his running capacity is outstanding for a player his size. As a leader of the group and given his experience in the AFL system, we're very confident he'll provide a strong voice and consistent performances in any role in 2018. His understanding of AFL standards and systems has already proved valuable to the younger players yet to experience a full time AFL environment."
Michael Close.
Louis Cunningham
"Louis comes from the TAC Cup system and has shown an ability to adapt to a new program, making significant physical improvements. Louis kicks the ball well and despite his age, has already shown an ability to influence training sessions and game simulation with his kicking and decision making."
Louis Cunningham.
Rhys Free
"Rhys was previously on Coburg's list, has some VFL experience and has shown a good ability to play multiple roles. He's a good size, can play either end and has committed himself to our training standards and the program generally."
Rhys Free.
Jordan Harper
"Jordan put together a significant career in the NEAFL with Canberra Demons. As a former captain at state league level, Jordan has already shown his significant leadership talent and attention to detail in his preparation, which will benefit the program significantly on and off-field. Jordan will play in numerous midfield roles in 2018, which we hope will add to his significant skill set. Jordan is part of the leadership group in 2018."
Jordan Harper.
Max Hayes
"Max is a strong defender with a range of attributes that will assist our defensive set up and flexibility. He's a proven VFL footballer with significant scope for improvement given his age, and he's already proving a valuable contributor on and off-field."
Max Hayes.
Nick Hogan
"Nick is a former Gippsland Power player from the TAC Cup. He possesses excellent acceleration and lateral movement and both midfield and mid-forward traits and has shown good energy and willingness to work in our training sessions and glimpses of some game changing talent in match simulation."
Nick Hogan.
Nash Holmes
"Nash is formerly a Gippsland Power and Vic Country representative and most recently Essendon VFL-listed player. He's combative, has a terrific motor and a significant talent base that we think can assist the team as a midfielder and as a forward. Nash will form part of the leadership group, and we look forward to developing his football and leadership potential."
Nash Holmes.
Tom Hotchin
"Tom is a young player who has been playing local football in Ballarat and showed some promise very early in the pre-season. A natural athlete and another good runner, he's got some good football traits and has adapted very well to all aspects of the program given his inexperience."
Tom Hotchin.
Chris Jansen
"Chris arrives from Central Districts in the SANFL, where he was a high performing midfielder in a very strong competition. He's another player who is adaptable in terms of his role, and he'll provide another option for the coaching staff in a range of positions, an opportunity which will round out his already significant skill set. Chris is part of the leadership group and will take up a part-time coaching position, an experience that will also assist in his football development."
Chris Jansen.
Tyrone Leonardis
"Ty had two years at Sydney, after being drafted in 2015. He brings a variety of excellent football traits, and is already a popular part of the footy club. Like Michael Close, Ty's experience on an AFL list will assist our players who have come into a VFL program which is a significant step up from their previous football experience. Ty is another who will likely play in positions that will be new to him, but his speed, agility and kicking quality will see him provide assistance to the team in any role and another flexible option for the coaching staff."
Tyrone Leonardis.
Jordan Mangan
"Jordan is an athletic defender who has impressed with his diligence and commitment to the program. A naturally strong runner and leader by example, he'll be able to play in a variety of defensive roles on varying types of forwards, which is important to the defensive unit we'll be required to field week to week."
Jordan Mangan.
Patrick McCarthy
"Pat is strong, aggressive utility who will play a range of roles. He arrives from Kyneton, but played school footy with Xavier. He's a strong runner, has a good frame and has shown a physical edge, belying his age and lack of experience."
Patrick McCarthy.
Jordy McIvor-Clark
"Jordan is from QAFL club Wilston Grange and arrived from Queensland with an attitude that will see him advance in his football career. His significant improvement in his endurance is testament to his work ethic and hunger to play football at the highest level possible. Jordan has good football instincts and kicks the ball particularly well."
Jordy McIvor-Clark
Lachlan Mirams
"Lachie has been very unlucky with injury in years previous, but impressed everyone very early with his work ethic, commitment to training and improving his skill set. He's 200cm, has a strong frame and has impressed in match simulation."
Lachlan Mirams
Quintin Montanaro
"Quintin is another who comes to us from the TAC Cup system, playing his 2017 football with the Sandringham Dragons. He's an outstanding runner, can play in a few roles through the midfield and has shown some very strong signs in his time in the program so far. He has the usual strength improvements to make of a teenage player with a naturally light frame, but he's already made significant strides in this area and has the natural footballing talent to rival his athletic strengths."
Quintin Montanaro
Koe Ngawati
"Koe played TAC Cup with the Pioneers in 2010/11 and has a range of traits we value highly. He has had some injury issues prior to this year, but has already shown an ability to play multiple roles and will likely contribute as a forward and inside midfielder."
Koe Ngawati
Matt Northe
"Matt has experience on a VFL list and arrives with a terrific running base and will bring an adaptable and enthusiastic training consistency to the program."
Matt Northe.
Chris Peart
"Chris has played VFL football at Essendon and adds a strong frame and a physical option as a midfielder. Another combative and defensively strong midfielder, we're confident Chris provides a physical midfield dimension to our midfield setup."
Chris Peart.
Nick Rippon
"Nick is a prolific and decorated VFL footballer who brings terrific experience in the VFL. Despite his standing in the competition, Nick is looking forward to a new environment and improving his football even further. He's been outstanding in his approach so far, culminating in his place in the leadership group and clear impact on the track. There will be an opportunity for exposure in some new roles on occasion, which will see Nick improve his football beyond his proven midfield career."
Nick Rippon.
Mitch Rodd
"Mitch had a very good 2017 after suffering some injury setbacks previously. He's a general defender, flexible in his role, defensively strong and possessing some excellent athletic traits. Mitch has plenty of improvement left in him, which will come with continuity and a continuation of his already impressive worth ethic and character."
Mitch Rodd.
Brandon Ryan
"Brandon arrives from Geelong West after a very good 2017, where he showed some relatively rare traits for a 200cm player. Brandon is raw, but kicks the ball very well and has a solid base of ball handling and skill execution. He has significant improvement remaining in his frame, but in his first exposure to this level of training and preparation, we're confident he'll reach his potential."
Brandon Ryan.
Steve Stroobants
"Steve is a former VFL captain and part of our 2018 VFL leadership group. Steve's experience in the VFL will assist our young players adapt to the program and their understanding of what is expected. He's a talented player with a proven record at this level."
Steve Stroobants
Liam Whelan
"Liam arrives from VAFA side Aquinas. He's a nice size, possesses good speed and agility and reads the game unfolding well. His energy at training has been infectious, and he's clearly committed to improving his football."
Liam Whelan.