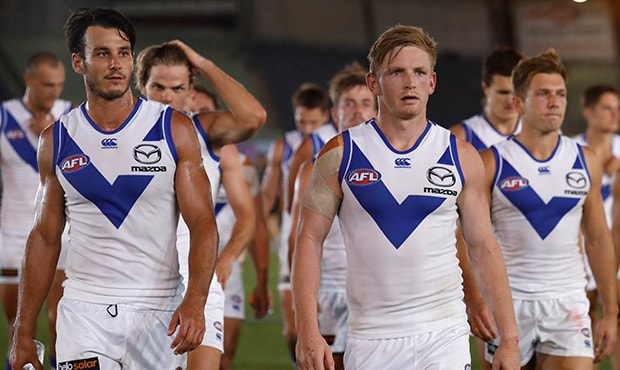 Shaun Higgins believes North can take plenty of learnings out of its first two JLT Series matches, with an aim to iron out some kinks before Round 1.
"It's an important two-and-a-half weeks to make sure that we tidy-up the skills which let us down on Wednesday night," Higgins told North Media.
"We'll also take a look at structures and the way we want come up against Gold Coast and how we want to play for the rest of the year. We need make sure that training's really sharp and that we're focused."
With the second-youngest list in the competition, there's plenty of learning ahead, and Higgins says the coaches and experienced players will continue to work closely with some exciting, emerging Roos.
"With a young side you've got to continually educate these guys and do work in meetings and small groups to make sure that they are up-to-speed," he said.
Wednesday's night's loss to Richmond featured some new faces, as well as some familiar ones who have overcome off-season injuries.
"It's important we get our full list available to select from as quickly as possible, and that means getting guys back playing in the senior team as quickly as possible," Higgins said.
"Mason (Wood) was back for his first hit-out, Taylor Garner was back … we were able to give Tom Murphy a game and Luke Davies-Uniacke had another game which is only going to help him.
"There's plenty to like from the younger guys, with the main one being the fact that they're only going to get better and better with every game.
"The more games we can get into them at this time of year, the better we'll be long-term."
As a midfielder, Higgins is excited by the prospect of working alongside some different teammates in the middle, such as Davies-Uniacke and Jy Simpkin.
"It's really important to have that flexibility through the midfield," Higgins said.
"All sides have now got a number of players who can go through there, so we're going to be no different.
"Ben Jacobs knows the exact role he needs to play, and he's done it well over a long period of time now and slotted back in well.
"Then guys like Jy (Simpkin) and Luke (Davies-Uniacke) are just focusing on taking in the experience. We want to get those guys up to speed as quickly as possible."
As for Higgins himself, he seems to have picked up from where he left off in 2017, collecting a game-high 31 disposals in JLT 2.
"It was good to get a full game in," he added.
"It's not so much the touches for me, it's more so the fact that I've conditioned myself to get through a full game and I felt really good fitness-wise after the match.
"I was really scrappy and rusty against Melbourne, and I was a little bit disappointed in the way that I played after having a good pre-season.
"It was important for me to go to work on Wednesday night and run-out a full game which I was able to do.
"I'm looking forward to kicking off the season in a couple of weeks."
The views in this article are those of the author and not necessarily those of the AFL or its clubs