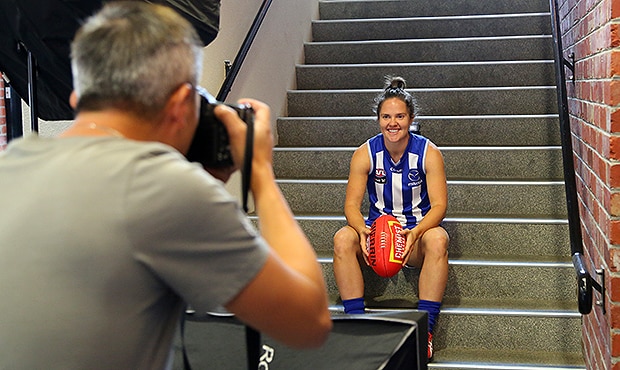 It's been the perfect start for North Melbourne's AFLW side.
Just days after the securing superstar Emma Kearney, AFLW Coach Scott Gowans opened up to North Media about how important the acquisition is and the opportunity that is now for the taking.
"It's very exciting, I think it's good not only to get the first player but she's (Kearney) also a quality person which was part of what we tried to do," Gowans said.
"If you're going to get one player you may as well start at the top of the tree, and she's definitely top of the tree."
Gowans is confident that landing the league's best player will work in the club's favour when it comes to securing additional talent.
"A lot of the players we've been interviewing so far have all asked who they will be playing with which is a fair and reasonable question," Gowans said.
"We haven't really been able to say that but now we can say 'look we've got Emma Kearney' and there's no AFLW player that wouldn't want to play with Emma, so that will give us a bit of a boost over the next two weeks to get some more signings."
While Gowans remained tight-lipped on who else may be committing to the club, he's confident fans will be impressed.
"We're just waiting on the AFL to finalise some rules which should come through this week, but if I were a North supporter I'd be really excited about the level of player we're talking about," he said.
"Our goal is to get that three or four top-end players like Emma and we're really close with a couple of others and then what we'll do is develop our middle tier from there which will include some Tassie talent."
With just about every accolade there is to win, Kearney's humble approach makes her an important addition at Arden St.
"She'll come and work in the recreational area and help out with growing the next generation of kids," Gowans said.
Kearney's experience in coaching and development will not only encourage participation for young women, but also bring confidence to their game.
"The kids look up to her and will know at least she's coming from a level of authority so having her here at North is great for us from a North perspective, but also for the development of girls footy going forward."
Kearney's connection to North dates back to 2012, having been involved with the local all-girls Auskick program and then working as a teacher at Mount Alexander Primary, which regularly had its students attend The Huddle.
The former Bulldog has commenced work with North in its award winning non-for-profit arm, The Huddle, as a Sport and Recreation Coordinator.