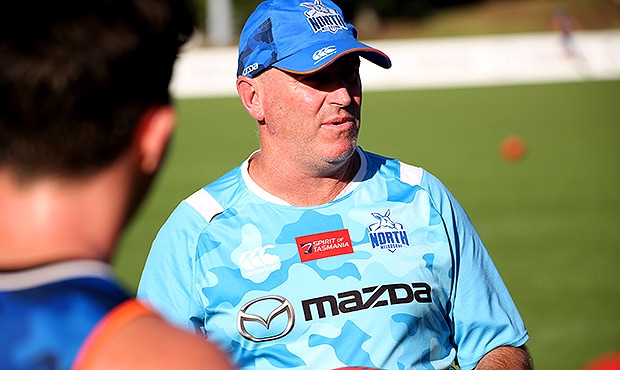 After months of anticipation, North Melbourne's inaugural VFL game against the Northern Blues is now within reach.
Coach David Loader is hopeful that the team's demanding pre-season campaign will have it well-placed to secure premiership points on Sunday afternoon against the Blues, who lost last week.
"I think everyone's pretty excited that we're playing our Round 1 after what's been a long and arduous pre-season," Loader told North Media.
"For these guys, getting a group together has been really exciting for the combination of our AFL boys having their own VFL team, and the new guys that are at the club on the VFL list.
"The guys just want to get out and play now, so we're really looking forward to the game this weekend."
With a healthy list at the selectors' disposal, Loader said morale amongst the playing group is high.
"I'd like to think that we've got 22 [players] that are flying under the radar at the minute, they'll all surprise everyone this weekend," he said.
"We've been through a lot of practice matches, a lot of structure stuff, a lot of nights on the track.
"We're rapt with having a lot of AFL guys available to play and the VFL list is really fit and healthy too."
Despite the Blues fielding eight debutants in their 130-point loss to the Magpies, Loader expects a tough clash.
"We expect them to be really Carlton-like I suppose as the first thing," Loader added.
"I expect them to bounce back fully and be a really competitive unit that's trying to obviously show the best things they can do to give themselves a chance for their AFL-listed guys to come in.
"There's no doubt about it, the experience of those younger players is going to be really beneficial for any club."
Loader said while there are always areas of improvement from pre-season hit-outs, fans can expect to see a team that is ready to compete with the best.
"We've certainly done some homework on that stuff and trained some things this week that'll help us going forward," he added
"I think every club at this stage of the year is going to have a lot they want to work on and there's going to be some rusty things that'll come up in games, but hopefully you can work those things out and move forward.
"We're really looking forward to what we get out of a full game for the four points."
Fans are invited to attend Sunday's VFL match against the Northern Blues at Avalon Airport Oval, first bounce at 1.00pm. Entry to home games is free for NMFC members.