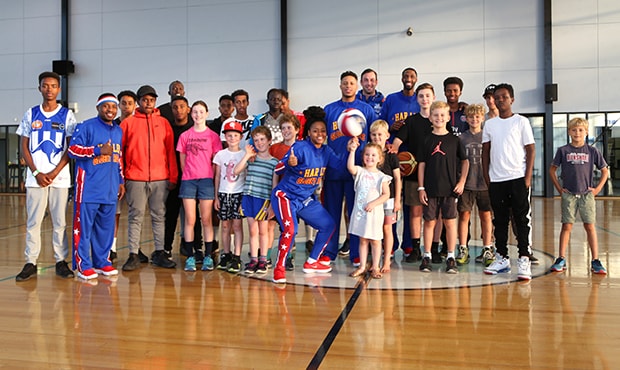 Emma Kearney knows only too well what it's like to be an elite athlete in a male dominated sport and on Thursday, the new North recruit met someone who could easily relate.
Straight off a 17-hour flight from the United States, the Harlem Globetrotters' only female payer "Torch" was at North Melbourne's headquarters for a training session and immediately connected with Kearney – currently the club's sole female football player.
"When we travel from city to city and I can see different girls who I inspire to try out for a basketball team that's co-ed or to try out for a football team … it means a lot," Torch told North Media.
"For me, being the only female on a male-dominated team is empowering … I'm truly thankful to be in that position and feel like I'm holding my own with these men and am really trying to represent for women."
Kearney, agreed saying, "You can't be what you can't see."
The sentiment was echoed by another Globetrotter, "Bulldog", who had just met with North Ruckman, Todd Goldstein.
"Having more diversity in sport makes kids watch and think 'hey I could do that too'," Bulldog said.
"It makes kids who may not be as tall or are different in some way, feel like they can have an impact and see themselves as a future NBA player or star of a sporting league."
It wasn't all talk however as the Globetrotters proceeded to put on an exclusive clinic for a group of extremely lucky Huddle participants.
Known worldwide for their skill, athleticism, and showmanship, the Globetrotters are a sports team unlike any other. Their brand of basketball combines acrobatics, ball handling skills, and an oversized helping of good will.
Joining "Torch" and "Bulldog" was "Too Tall"and "Jet".
Understandably overawed by the occasion, the Huddle students eventually came out of their shells and started shooting hoops and cracking jokes with the Globetrotters' players, who were effortlessly inclusive and easygoing.
While basketball was the main game, inevitably the conversation turned to "Aussie Rules" and the Kangaroos.
"AFL is one of the craziest things I've ever seen," Bulldog told Goldstein.
Ironically, crazy is what the Globetrotters also do well.
"That's what we all try to do in sport, AFL or otherwise - bring joy to everyone who's watching," Goldstein said.

"For a couple hours, people can forget about their issues and have some fun and feel like they're a part of something."
Judging by the joy on the Huddle kids' faces after their VIP Globetrotter session, Goldstein's comments were nothing short of a slam dunk.
The views in this article are those of the author and not necessarily those of the AFL or its clubs