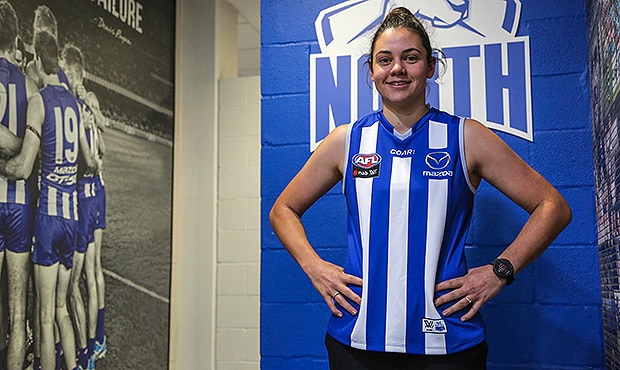 First impressions last, just ask new North recruit, Danielle Hardiman. The defender signing with the North Melbourne Tasmanian Kangaroos revealing she was completely sold on the club within minutes of walking through the doors.
"It feels like a great atmosphere, ever since I came here for an interview it was very welcoming," Hardiman told North Media.
"It's so inviting and there is going to be all the new facilities and also the fact [of] sharing the facility with all the guys, really helps bring the whole club together."
A reliable, strong intercept defender, Danielle Hardiman will be a valued member of our backline in 2019.

👉 https://t.co/en9YBnpQso #OurTimeIsNow pic.twitter.com/6VKRyMBkIo

— North Melbourne AFLW (@NorthAFLW) May 11, 2018
Hardiman's close ties with coach Scott Gowans also made the switch less complicated.
"I had Scotty [Scott Gowans] help coach at Carlton two years back now and really enjoyed his coaching," she said.
"I think it will be a good change for me and Scotty's made it really exciting for me ... he definitely made the move very easy."
An elite intercept marking player, Hardiman's ability to match up on tall and small forwards will add a significant amount of flexibility to the North side.