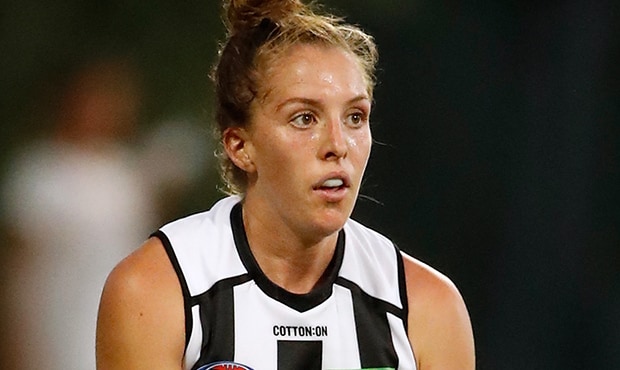 A desire to win a premiership has driven Emma King to the North Melbourne Tasmanian Kangaroos.
The ruck, who arrives at Arden St after two successful seasons with Collingwood, admits that North's star-studded recruitment during the trade period was a driving factor in her making the swtch.
"Looking at the teams, North presented a really good opportunity for me to move on and open up my horizons," King told North Media.
"They've done really well with the list so far, I'm hoping fingers crossed they keep going down that path. I think we're moving towards a premiership."
King admitted it wasn't an easy decision to leave the club she played two seasons as a marquee player.
"It [changing clubs] was pretty tough," King told North Media.
"I've made a lot of friends, which is probably the hardest part about making the move over. I think I've established myself in Melbourne, so that was a good part of me wanting to stay in Melbourne.
The 23-year-old joins a host of big signings, including 2018 league best-and-fairest Emma Kearney and Jamie Stanton, alongside former teammates Jasmine Garner, Jess Duffin and Moana Hope, who will all don the royal blue and white in 2019.
As the countdown to pre-season preparations begin, King is confident that North's recruitment will have the club well placed in its debut season in the AFLW.
"They've established the club really well, I think they're going to compete with the sides that are up-and-running for two years.
"It [list management] was a huge part of my questioning moving clubs. Even though I've made a lot of friends, [and] it's very much a social thing. I want to make it more of a competitive thing, strive higher and go for gold."
The 186-centimetre tall excited to continue her journey and be involved in the continued rise of women's football.
"I grew up having the same dream as the boys of playing AFL. When I was younger it wasn't really out of the question that one day in my lifetime girls could probably play AFL, even with the boys," King added.
"I'm so stoked they've made it in my lifetime and I've got a couple more years to go."
"Hopefully [I can continue] my dominant rucking ability.
"I'm hoping to push forward as well and have that opportunity to show my athleticism around the forward line and shooting for goals."