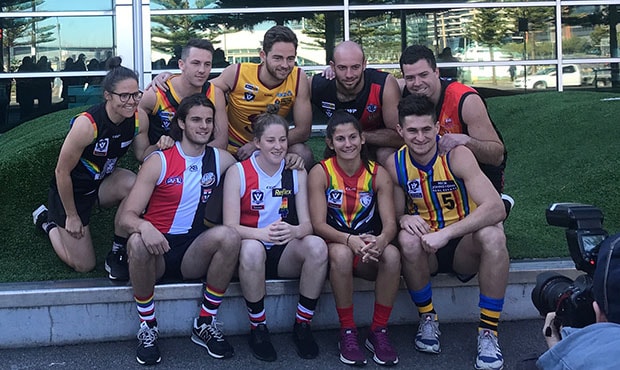 For North Melbourne Tasmanian Kangaroo, Emma Kearney, today marked another important step towards progress and inclusion in football.
Kearney, alongside seven other players and CEO of AFL Victoria Steven Reaper, spent the morning celebrating the annual AFL pride game and 'we are pride cup' campaign.
"I think it's really important that we have sporting environments that all people feel included, and that's the LGBTQI community as well," Kearney told North Media.
"Having these games puts the importance of inclusion to the forefront."
The AFL pride game and campaign aims to make the LGBTQI community more accepted in all sports across in Australia; from grassroots to the AFL.
"Today at AFL Victoria, we have a simple and clear vision to be the most accessible sport for all Victorians," Reaper said.
"We're trying to imbed diversity in all that we do and when we talk about diversity, it's not just multicultural or religious, but it's being LGBTQI … we need to be inclusive every single day.
From a health perspective, Stefan Grun from VicHealth, emphasized how inclusion can have a direct impact on life outcomes.
"An LGBTQI person is six times more likely to attempt suicide than their straight counterparts," Grun told the group.
"It's really critical that we address this and make the LGBTQI community feel welcome and included in sporting clubs and in footy."
Learn more about the Pride Cup Here
The views in this article are those of the author and not necessarily those of the AFL or its clubs