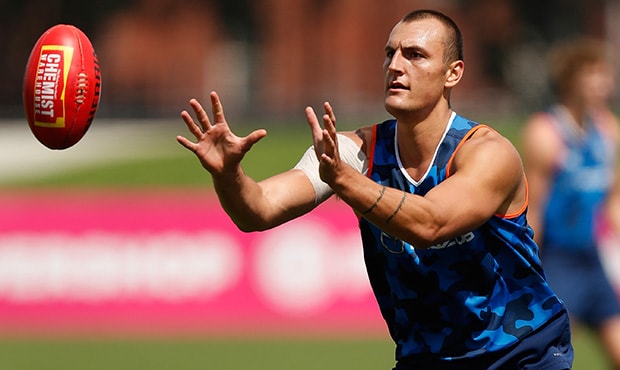 An open and collaborative approach to training has allowed Braydon Preuss and ruck coach Will Minson to form a productive working relationship.

On the eve of Preuss' 50th game for North Melbourne's VFL side, Minson said the development of powerfully built ruckman has been both unique and rewarding.

"Sometimes he wants to learn and sometimes he wants to teach," Minson told North Media

"We have a lot of fun, but we train hard."

The work the pair has put in has been evident with Preuss regarded as one of the leading ruckman in the competition.

The 22-year-old at his dominant best last weekend, tallying a remarkable 75 hit-outs against Sandringham.

"We probably saw his best game with giving our on-ballers first usage. That's always what Preussy is going to be associated with," Minson said.

Other than his obvious size advantage, Preuss has some less obvious traits that can influence games too, according to Minson.

"I think he's a naturally gifted athlete. You can't get to AFL level without possessing some natural ability," he added.

"The immovable mass that he represents on the field at times is definitely a strength ... He can be quite intimidating when he wants to be.

"When he fully applies himself, he can be a very damaging player.

'Whether that be a one-step 60 metre kick, which we've seen him do, that's a huge weapon to have."

With so many weapons at his disposal, Minson believes the key to Preuss being successful is to play on instinct.

"It's very hard to tell him to become a light-bodied and agile endurance athlete. He's a powerfully built beast and we should celebrate that," he said.

Preuss continues to develop in the VFL and learn from the experienced players around him, including senior ruckman Todd Goldstein.

"Players can always take things from different parts of each other's game," Minson said.

"He'll learn off everyone and that's the attitude he's always had. He'll continue to learn from someone like 'Goldy', who is an elite athlete and has great experience.

Consistency is another area the pair is working on.

"It's one thing to show your ability in a handful of games, but it's another thing to put a whole season together," Minson stated.

"You want to come in and make an impact to demonstrate that you're ready to play and that's the next step."

Fans are invited to attend Saturday's VFL match against Geelong at GMHBA Stadium, with the first bounce at 10.00am.
The views in this article are those of the author and not necessarily those of the AFL or its clubs