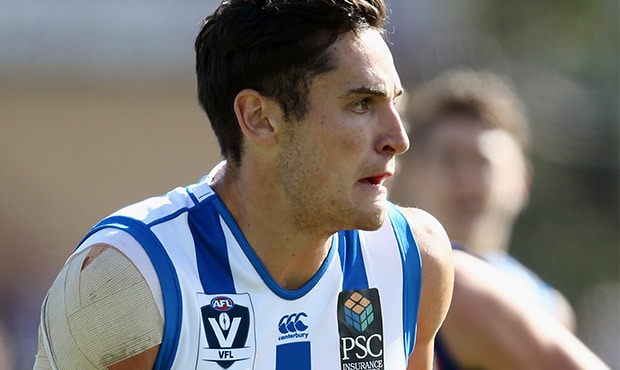 Match result
Geelong 21.11 137 defeats North Melbourne 5.7 37
In action
AFL-listed
Nathan Hrovat (15 disposals, 1 goal), Taylor Garner (8 disposals), Luke Davies-Uniacke (5 disposals), Ryan Clarke (27 disposals, 10 tackles), Mitch Hibberd (29 disposals), Nick Larkey (14 disposals, 3 goals), Ben McKay (10 disposals), Sam Durdin (12 disposals, 7 marks), Dan Nielson (12 disposals, 8 marks), Will Walker (10 disposals), Braydon Preuss (6 disposals), Josh Williams (27 disposals, 7 tackles), Kyron Hayden (13 disposals), Tristan Xerri (15 disposals, 6 marks), Gordon Narrier (13 disposals), Oscar Junker (9 disposals)
VFL-listed
Nick Rippon (31 disposals, 5 tackles), Ty Leonardis (8 disposals), Chris Jansen (23 disposals), Fraser Cameron (22 disposals, 6 marks), Louis Cunningham (10 disposals), Michael Close (2 disposals), Nick Hogan (9 disposals, 5 tackles)
Story of the game
North Melbourne has dropped premiership points for the first time in a month, going down to Geelong by 100 points at GMHBA Stadium.
It was expected to be a battle between the lean defence of Geelong and the impressive aerial presence of North, but the script was flipped in an afternoon to forget for the royal blue and white.
In what was ultimately a game of three quarters, the hosts were better in all areas.
The Cats were unrelenting with their forward pressure, booting 19 unanswered goals, before North eventually responded through Oscar Junker in the dying minutes of the third term.
After a series of fast starts against Port Melbourne, Box Hill and Sandringham, the Roos were unable to replicate their recent form, struggling on a day where clean possession and space was at an absolute premium.
North's last quarter resurgence coincided with the introduction of Taylor Garner, who found his feet after being introduced early in the third quarter.
Boosted by the clean disposal of midfield ball magnets Ryan Clarke and Nick Rippon, Garner was able to create opportunities for himself and those around him, particularly Nick Larkey and Nathan Hrovat, who both impacted the scoreboard due to the mercurial forward's influence.
Despite the lack of opportunities within its forward 50, North saved face with a four goal final term.
VFL coach David Loader reflected on the result with a sense of optimism, highlighting the positives from the heavy defeat.
"We probably set the scene early on," Loader told North Media.
"We went away from a lot of the methods and stuff that we like to do, and that we've been able to do in the last two or three weeks.
"[We are] a relatively young group and we got a fair bit wrong early, it almost just ebbed into that, being the catalyst for the day.
"[There is] A lot of learning to come out of today, and we learn a lot more about ourselves when we get beat than when we win probably. Plenty of things to look at as we go forward.
"We got soundly beaten everywhere.
"We didn't have too many winners across the ground at the end of the day, but we had little wins along the way, some form of a few players late in the day was pretty good.
"I want us to keep trying to do what we do well, and we had patches of that, certainly after half-time, but before half-time we really struggled."
Best of AFL
Sam Durdin
In his second game back in the VFL, Durdin showed why he's always in contention for a recall to the senior side.
The defensive pillar continues to flourish in North's defensive 50, offering both a cool head and clean hands in almost any circumstance.
The 22-year-old took several contested marks, including a grab in the third term, where Durdin expertly leveraged his weight on an opposition player, before rising to take the mark.
Best of VFL
Fraser Cameron
The developing youngster is proof that your game is as good as the company you keep.
Slotted alongside reliable pairing Durdin and Ben McKay, Cameron once again showed promise, highlighting his worth to North's defence.
Uncompromising and hard-working, the emerging defender showed maturity beyond his years, intuitively reading the flight of the ball while marshalling the hosts out of several goalscoring opportunities in the second half.
Talking points
Larkey influential late
Although the result was put beyond doubt well before the final siren, a four-goal fourth quarter allowed North to finish with some respect.
With three majors to leading front man Nick Larkey and a further major to Nathan Hrovat, there were some positives to take from the last quarter.
"It's easy for us to throw our hands in the air and say 'we're having one of those bad days,' but we wouldn't achieve a lot if we did that," Loader said.
"We looked at again, some of the little wins with some of the players and I think we got that out of the last quarter, which was pleasing for those guys.
"The message was just to keep trying to improve and keep trying to work at the way we want to work.
"As much as we got wrong over the day or we need to be better at, we got a few things right too."
Xerri's ruck resolve
On an afternoon that celebrated Braydon Preuss' milestone 50th game in the VFL, it was Xerri who stood tall in the familiar rucking role.
After spending patches of the game in North's forward line, he was moved to the ruck after the final break, finding success at the stoppages.
"We had some guys that had [good] patches in their game," Loader added.
"Tristan Xerri, when he rucked the whole last quarter, was really good. He was influential around the ground, took some marks [and] got some shots on goal, so he was good."
Garner's impact
A two quarter showing was enough to suggest that Taylor Garner isn't far from a return to senior footy.
Introduced with less than two quarters to play, the high-flying forward offered a different look in North's forward 50, providing space and an alternate avenue to goal.