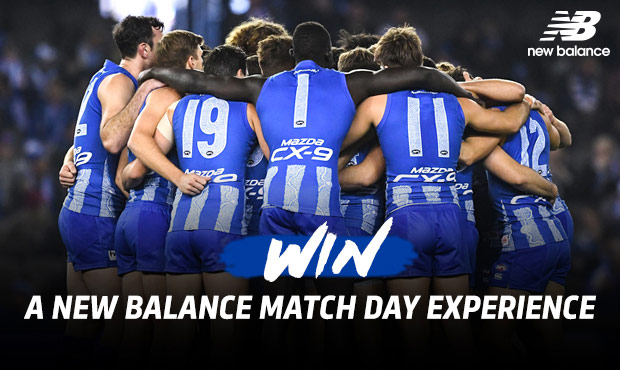 North Melbourne has teamed up with partner New Balance to provide one lucky fan with a memorable match day experience.
Simply by filling in the form below, you'll be in the running to win this awesome prize.
The pack contains two change-room passes for the Round 14 clash against the Western Bulldogs, as well as tickets for you and a friend and a New Balance gift voucher.
(function(t,e,s,n){var o,a,c;t.SMCX=t.SMCX||[],e.getElementById(n)||(o=e.getElementsByTagName(s),a=o[o.length-1],c=e.createElement(s),c.type="text/javascript",c.async=!0,c.id=n,c.src=["https:"===location.protocol?"https://":"http://","widget.surveymonkey.com/collect/website/js/tRaiETqnLgj758hTBazgdwWo0OSYdvl_2FRmp34JtA8WorLnKE3ZCSp6bvIbjBomgH.js"].join(""),a.parentNode.insertBefore(c,a))})(window,document,"script","smcx-sdk");
Create your own user feedback survey
TERMS AND CONDITIONS
Club Sponsor Competition – New Balance
Entry Details:
- This competition is open to VIC, TAS, ACT, QLD, and WA
- You must be 18 years of age or older to enter this competition.
- For an opportunity to win Changeroom Passes and a New Balance Voucher, fill out and submit a competition entry form between 12:00pm 11 June, 2018 and 11:59am 20 June, 2018.
- By filling out and submitting your entry form, you will go into the draw to win 2 x 2018 North Melbourne Changeroom Passes.
- Entries close at 11:59am 20 June, 2018.
- There will be one (1) winner drawn at the end of the Promotion Period, totalling one (1) prize winner [throughout to VIC, TAS, ACT, QLD, and WA]
- Winners will be announced on each of the Promoter's website and the Sponsor's website and will be contacted personally by the Sponsor.
See full terms and conditions of the competition here