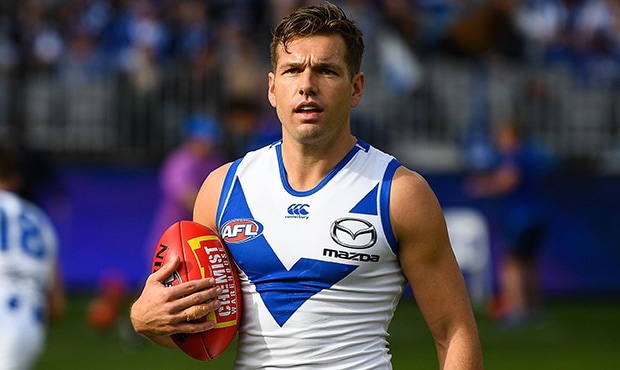 Shaun Higgins continues to demonstrate why he is rated among the elite players in the competition with an outstanding 30-disposal, 2-goal performance against Geelong on Saturday.
Now in his 13th season, Higgins is enjoying arguably his finest year, excelling in a midfield role.
After making the switch to North at the end of 2014, Higgins' impact at Arden St was instant, with the then forward setting a career-best goal tally of 39. That earned him a spot in the 40-man All-Australian squad and he also helped the Roos to a second successive preliminary final.
Unfortunately for Higgins and North, injury restricted the number 4 to just nine games in 2016, seven of which were a part of the Roos 9-0 start to the season.
Higgins' return to full fitness in 2017 was crucial to the young and re-building North list, and his experience saw him take on new roles on and off the field.
Higgins was elevated to a leadership role, and tasked with more midfield minutes throughout the season.
The move resulted in a stellar year, in which he set career-bests in disposals (23.5), clearances (4.3), tackles (5) and inside-50s (5.7). Later, he claimed his first Syd Barker Medal.
Many players would have been happy to simply replicate a best & fairest winning season, but not Higgins.
Far from satisfied, Higgins has lifted his game to another level.
In the eleven games so far, he is averaging 26.4 disposals, 6.2 inside-50s, and 5 clearances. These numbers even more remarkable when you factor in the Round 5 clash against Hawthorn, in which he was concussed in the second-quarter.
Another statistic that showcases the evolution of Higgins is the increase of 30-plus disposal games. Saturday's effort was the 11th 30-disposal game of Higgins' career, and his 8th as a Kangaroo.
Remarkably, 36 per cent of these have come in 2018, with the season only 12 rounds old.
Higgins' professionalism, and his class on and off the field, have always seen him rated him highly by fans of the Bulldogs and the Kangaroos.
But it seems that his importance to the Roos surge up the table in 2018 has seen him finally recognised externally as one of the game's elite.
Premiership coach Paul Roos was the latest member of the media to acknowledge his outstanding form, suggesting that he was now among the top-10 players in the AFL.
"It's time to acknowledge Shaun Higgins as one of the top 10 players in the competition," Roos said on Fox Footy.
If he is able to continue his form into the second half of the season, Higgins is sure to receive more plaudits, and may even be eyeing off individual honours such as All-Australian selection, a potential finals campaign and another Syd Barker medal.