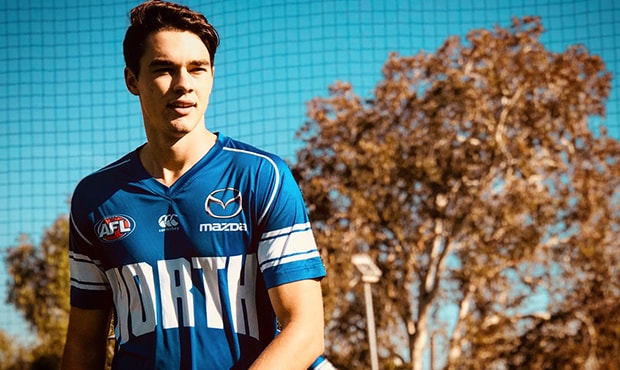 There's few players blessed with the speed of Josh Williams, but that natural ability doesn't necessarily go hand-in-hand with winning the ball.
Two years into his AFL career, the 20-year-old is aiming to grow his all-round game, and his hard work is paying dividends.
"My work-rate has been a really big thing for me," Williams told North Media.
"If I'm getting into the right spots, I've found that I'm often able to get used well. When I give it off the deck and get the footy again, I'm just making sure I use my run and carry from there."
Williams played twice in the AFL last season, booting a memorable goal with his first kick against Essendon on his debut, followed by a second appearance against Collingwood in Round 20.
Having gotten a taste of senior footy, the youngster is determined to take the next step in his development.
"It gave me a lot of confidence playing in the AFL," he said.
"I was probably a bit unlucky to go back to the VFL, as I was playing okay. But it's definitely given me some confidence going forward, showing that I definitely belong.
"I'm now just working to get myself back up to AFL level."
The second-year midfielder, who has split his time in the VFL with Werribee in 2017 and North's standalone side this year, believes a streamlined strategy that mirrors the approach of the Roos' AFL side is having a big impact on his development.
"We're all on the same page. The message is the same from the AFL right through to the VFL.
"It's pretty easy to go from there when the message is always the same. If you're doing the right thing in the VFL, it's going to directly correlate to AFL level as well."
Despite his exceptional use of the footy and improved decision-making, Williams believes he still has some work to do at the coalface.
"I've been looking to equal, if not win, as many contested ball situations as much as I can," he said.
"I've put on nine kilos since last year, you might not notice it, but it's definitely helped. The weight gain has improved my speed in contests as well. Whether it be contested or aerial, it's really been helping me out.
"If I continue to work hard and do that, it's going to put me in good stead."
Fans are invited to attend Saturday's VFL match against Casey Demons at Casey Fields, with the first bounce at 2.10pm. The game will be broadcast live on Channel 7.
The views in this article are those of the author and not necessarily those of the AFL or its clubs