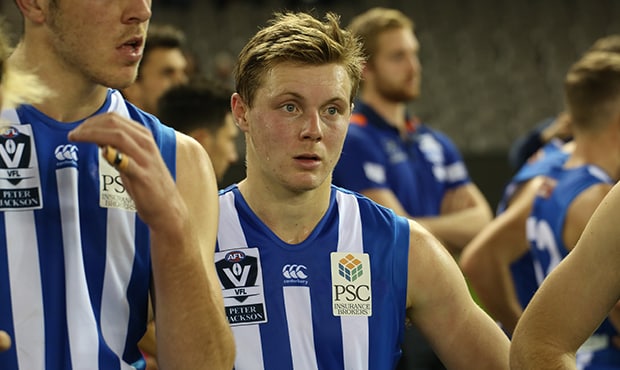 Fraser Cameron credits a strong working relationship with his AFL-listed peers as a contributing factor to his fast rise in North Melbourne's defence.
After facing an initial challenge to break into the side, Cameron has established himself across multiple roles in the back half, forging a spot alongside defensive pillars Sam Durdin, Ben McKay and Dan Nielson.
"We all play as a unit in the backline, but I play that mid-defender role," Cameron told North Media.
"I just pick someone who is similar to my height and then just roll with it. We're all pretty easy going with how we play, but that's my role.
"I've loved being a part of this. It's been tough with selection for a couple of weeks, but you sign up for that. It's great getting experience with the AFL boys, they've got so much information to pass on.
"They [the AFL boys] look after us as well. They're doing good things and playing really well."
The 20-year-old has been granted the freedom to pursue the footy, which has given the energetic youngster the self-belief required when facing the best players in the competition.
"It's a confidence thing really," he explained.
"I've always found that if you stick to what the team wants you to do and just be confident with how you're playing, it's always alright from there.
"Because we play so assertively, especially in the way we set up, you can often find yourself up in the forward 50, even when you're playing in the back pocket.
"I'm really happy with how much freedom we get to run around out there, it's great."
Cameron will take his familiar place in North's defensive six on Saturday afternoon, looking to shine on the big stage against the second-placed Casey.
Although the odds are stacked against the Roos from a ladder perspective, the youngster is confident the Roos will be right around the mark when the final siren sounds.
"It's funny, I think it's just the nature of the competition," Cameron added.
"Some weeks you'll look at the matches and you'll see some teams being beaten by sides you wouldn't even think could come close to them. It's really competitive.
"You've got so many players going in and out each week. I'm come from the VAFA, where it's pretty consistent each week. It's funny how things can change so dramatically from one week to the next.
"We've got some challenging games coming up. I think all the boys are looking forward to picking some blokes off. Hopefully, if we can get a scalp here and there, we can sneak into the finals."
Cameron concedes that there are areas of his game that require development, but the promising prospect is the first to admit that the one percenters can make all the difference.
"The coaches have been really pushing us to stick to our structure and the way we want to play," he said.
"In previous weeks we've been doing a lot of things right, but there were a couple of things we were doing wrong, which let us down. We're confident that we can put it together and get a couple of wins.
"I think for me it's really hammering down on those skills and removing the small errors from my game.
"Once that all comes together, I think I'll be a much better player at the end of the day."
Fans are invited to attend Saturday's VFL match against Casey Demons at Casey Fields, with the first bounce at 2.10pm. The game will be broadcast live on Channel 7.
The views in this article are those of the author and not necessarily those of the AFL or its clubs