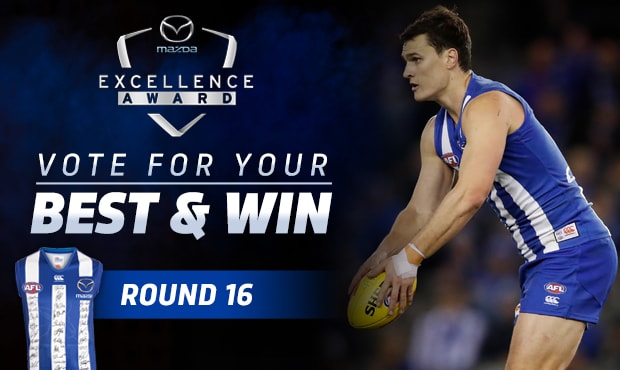 Simply by voting for North's top three players each week, you could win a North signed guernsey or tickets to the Syd Barker Medal.
Thanks to our major partner Mazda, the Mazda Excellence Award will again recognise the Roos' standouts in every game, with votes compiled to find one winner at the completion of the 2018 season.
Vote for your 3-2-1 after each round and you'll be in the running for the prizes.
Our overall winner will also present the trophy to the player who receives the Mazda Excellence Award at the 2018 Syd Barker Club Champion Dinner.
Who gets the nod? Register your votes via the form below and return every week during the 2018 season to make your opinion count, and you'll be in the running.
On a mobile or can't view the form below?
CLICK HERE TO VOTE
Voting for this round closes on Monday July 16 at 5pm EST.
1. Majak Daw
Daw began the game in his usual defensive role, helping Robbie Tarrant and Scott Thompson sure up the backline, but was a threat going forward in the second half.
Daw kicked 2 goals after being thrown into attack, and took 5 marks.
10. Ben Cunnington
North's "Mr. Consistent" delivered again, with Cunnington putting in another strong midfield performance.
Cunnington collected 30 disposals, 6 marks and 6 tackles.
14. Trent Dumont
Dumont had one of his finest games of the 2018 season against the Suns.
North's number 14 had 23 disposals, 7 tackles and took 8 marks.


16. Scott Thompson
Like many of his teammates, Thompson looks to be just getting better with age.
The 32-year-old had a game-high 31 disposals, and took 9 marks.
22. Todd Goldstein
Goldstein is enjoying his most consistent spell since his 2015 All-Australian year, and this continued on Sunday,
The number 22 was a threat around the ground, enjoying 20 disposals to go with his 36 hit-outs and goal.
25. Robbie Tarrant
Tarrant was a dominant force in defence alongside Thompson.
The key-defender had a season high 26 disposals, and took a game-high 10 marks.
50.Ben Brown
With Lance Franklin's four-goal haul heating the Coleman Medal race up, Brown responded perfectly.
The star forward kicked four goals of his own to maintain his lead atop of the goal kicking standings.
(function(t,e,s,n){var o,a,c;t.SMCX=t.SMCX||[],e.getElementById(n)||(o=e.getElementsByTagName(s),a=o[o.length-1],c=e.createElement(s),c.type="text/javascript",c.async=!0,c.id=n,c.src=["https:"===location.protocol?"https://":"http://","widget.surveymonkey.com/collect/website/js/tRaiETqnLgj758hTBazgd1y7r5JLS0GKDRWTiwxN4zBUd2JkDDj2ShMlW57V84m0.js"].join(""),a.parentNode.insertBefore(c,a))})(window,document,"script","smcx-sdk");
The views in this article are those of the author and not necessarily those of the AFL or its clubs