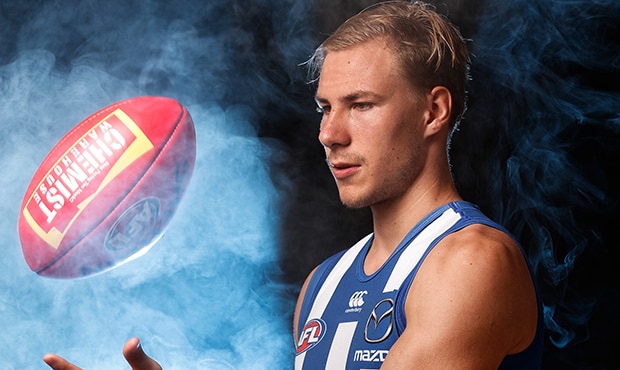 The words 'AFL ready' continue to be associated with developing defender Ben McKay, and those words have been echoed by two of his most respected teammates.

"He's (McKay) been awesome," Robbie Tarrant told North Media.
"Obviously it's been tough work when the senior side is winning and you don't get an opportunity. But the way he's gone about his footy in the VFL and his training standards have been elite.
"He'll get his chance at some stage and he'll take it."
The 20-year-old has quickly earned a reputation as one of the hardest working players at Arden Street, spending his spare time honing his craft in anticipation of a seemingly inevitable return to senior footy.
McKay's tireless work ethic hasn't gone unnoticed by those around the club.
"He's the last one out on the track most days," Tarrant said.

"I've noticed that he's been doing a lot of work with 'Boomer' (Brent Harvey) with his hands and doing a lot of high balls and marking. You can tell that he's been certainly been putting in the hours on the track.
"That's why he's clean in the marking contests on game day.
"I think playing forward and coming back more regularly this year has allowed him to adapt to the game style.
"When he comes in, he's going to be ready."
Key-forward Jarrad Waite has spent time playing on McKay, and can understand why he's been such a tough match-up for opposition forwards in 2018.
"Ben's biggest strength is his ability to put body on early," Waite said.

"He's able to move you off from where you want to be and he's got really good closing speed. You can see that Ben's a pretty strong lad.
"Because he's played forward, he's got a good ability to read the ball and take really good marks. He really has all the attributes to play some really solid footy for us."
Despite a lack of AFL opportunities this season, due mainly to the form of the likes of Tarrant, Scott Thompson and Majak Daw, Waite believes McKay is on the cusp of another senior opportunity.
"Ben is always out there working and doing extras, working on his hands and marking," he added.
"Being a defender, he's not just worrying about the spoiling, He's taking his game to new levels.
"When you look at all the defenders in the comp, they're really good at punching when they need to spoil. If they can take the mark, they do that and they're attributes that he keeps working on as well.
"He might not be getting his opportunities because 'Scooter', 'Taz' and 'Maj' are playing so well, but we know that if anything happens to one of them, he's going to come in and be fine."
Fans are invited to attend Saturday's VFL match against Richmond at Holm Park, with the first bounce at 2.10pm.
The views in this article are those of the author and not necessarily those of the AFL or its clubs