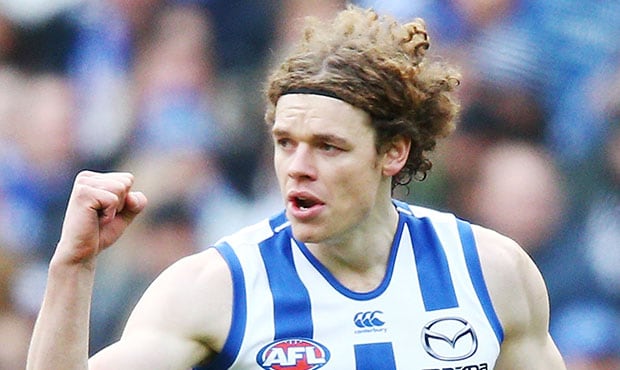 North Melbourne spearhead Ben Brown is not concerned by his recent lean patch in front of goal and has barely given a second thought to his shrinking lead in the Coleman Medal race.
Last year in his fourth AFL season, Brown established himself as one of the AFL's best key forwards, kicking a career-high 63 goals to finished fourth in the Coleman standings.
The Tasmanian has backed that form up this year and after round 20 is the competition's leading goalkicker with 54 majors, four ahead of four-time Coleman medallist Lance Franklin, with in-form Geelong star Tom Hawkins just a goal further back.
However, with Franklin in rare form last week with six goals and Hawkins kicking consecutive bags of seven in rounds 18 and 19, Brown is suddenly not the safe Coleman bet he looked just two weeks ago when he led by 10 goals.
Especially when he has kicked just four goals over the previous three rounds himself, including one apiece in the past two, when opposition defenders have more and more effectively denied him a free run at the ball.
But when Brown spoke to AFL.com.au this week he was confident his form would turn around quickly.
"While I probably haven't played as well as I would have liked the last couple of games, I'm not really concerned. We had a really good win against West Coast and we managed to get a win on the weekend (against Brisbane)," Brown said.
"We've had guys like 'Ziebs' (Jack Ziebell) popping up and kicking goals, it's great to have 'Waitey' (Jarrad Waite) back and Kayne Turner bobbed up and kicked a couple on the weekend. As long as the team's kicking goals, I don't really mind.
"When you've got guys like Harris Andrews, who's a really strong defender, playing on you it does make it more difficult. But that's the challenge of being a key forward in the AFL, you've always got to be trying to improve and as you take one step forward the key defenders are getting better as well and they're trying to figure out ways to beat you.
"That's part of the challenge and it's part of why I love being an AFL player."
Brown freely conceded he was aware of his lead in the Coleman race – and of Franklin's and Hawkins' late bids to overtake him – but said he had more pressing things to focus on.
"It's there in the background and I think anyone would be lying if they said they didn't know about it," Brown said.
"But for me it's coming back to the things that I do well for the team and that's not necessarily kicking goals. I put a high price on making sure that I do kick goals when I get the opportunity, but it's also about crashing packs and bringing other players into the game as well.
"As long as we're functioning as a forward line and we've got multiple options going forward, I think that's really important for us too.
"Five years ago, I probably would have laughed at you if you'd said I would be playing on the best key defenders in the AFL. I feel really privileged to be in this position.
"If I finish first in the Coleman Medal or 15th by the end of the season I don't think it would matter to me. I'm really happy to just be playing footy."
The views in this article are those of the author and not necessarily those of the AFL or its clubs