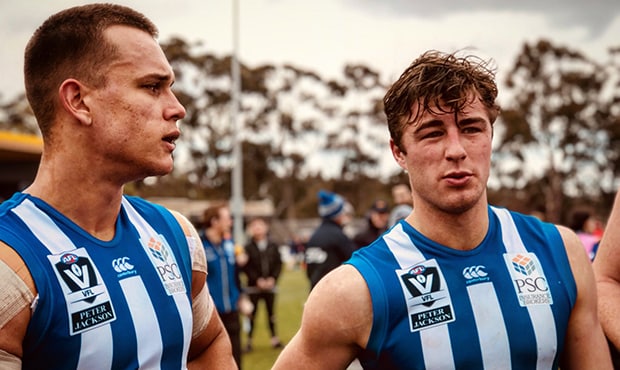 Match result
North Melbourne 16.15 111 defeats Footscray 12.19 91
In action
AFL-listed
Luke Davies-Uniacke (28 disposals, 6 marks), Mitch Hibberd (29 disposals, 10 marks), Nick Larkey (13 disposals, 3 goals), Ben McKay (9 disposals, 5 marks), Dan Nielson (9 disposals, 5 marks), Kyron Hayden (11 disposals, 4 marks), Billy Hartung (15 disposal, 2 goals), Tom Murphy (16 disposals, 4 tackles), Gordon Narrier (5 disposals), Declan Mountford (20 disposals, 5 tackles), Oscar Junker (4 disposals, 3 tackles), Tom Jeffries (5 disposals, 1 goal)
VFL-listed
Nick Rippon (26 disposals, 3 goals), Ty Leonardis (12 disposals, 7 tackles), Jordan McIvor-Clark (6 disposals, 4 tackles), Nash Holmes (18 disposals, 13 tackles), Chris Jansen (25 disposals, 12 tackles), Fraser Cameron (15 disposals, 6 tackles), Louis Cunningham (17 disposals, 10 marks), Quintin Montanaro (12 disposals, 4 tackles), Nick Hogan (13 disposals, 5 tackles), Matt Northe (20 disposals, 7 tackles), Lachlan Mirams (1 disposal, 1 mark)
Story of the game
A four-quarter performance allowed North Melbourne to secure a memorable win over Footscray in its last home game of the season at Avalon Airport Oval.
With a finals berth still a possibility, the Roos worked their way back into contention with a thrilling albeit hard-fought victory over a determined Bulldogs' outfit, that offered resistance for the bulk of the afternoon.
Perhaps sensing the importance of a win against a typically fast-starting Footscray, North burst out of the blocks early, booting five unanswered goals in an authoritative opening that brought the highest margin of the game.
North entered the first break with a 16-point lead, which was as high as 32 points with just minutes to play.
To its credit, the eighth-placed Footscray fought for every inch, providing scares in both the second and third terms, including a run of goals that brought the game to a deadlock, only for Kyron Hayden to restore parity.

Despite the fixture's competitive nature, it was the hosts that ran out in spectacular fashion, closing the game in style, booting four of the last five majors.
The win allowed North to make amends for a one-sided defeat suffered at the hands of Footscray in an earlier curtain-raiser at Etihad Stadium.
However, it wasn't all one-way traffic, with the gritty visitors making the game a real arm-wrestle.
As expected, Footscray captain Angus Monfries proved to be a threat, adding three goals in a crafty forward display alongside Mitch Honeychurch, who equalled his captain's efforts.
In a separate milestone, the 20-point win was North's first over a standalone AFL side in the VFL.
VFL coach David Loader made a point to highlight the tireless efforts of the emerging Roos, who scored another upset over a higher-placed side, joining Box Hill and Port Melbourne as scalps secured throughout the season.
"The boys played really well today," Loader told North Media.
"The boys have played relatively good football here all year, which has been pleasing for us. It's [Werribee] our home away from home if you like.
"We're super excited about the future going forward and playing games at Arden St, that's when we'll really be home, [it was] a really solid effort today.
"We looked dangerous every time we went forward.

"Even the numbers in the third quarter, we had seven entries for seven scores. I think that was our focus before the game, to get the ball in a little more than perhaps we've done in the last month of football.
"That was a positive for us today. We were so solid across the ground today and Footscray are a really good side. They beat us quite convincingly halfway through the season."
Best of AFL
Luke Davies-Uniacke
Continuity in the VFL, along with the freedom to play his individual role, has allowed Davies-Uniacke to take his game to another level in recent weeks.
The prized prospect was at the centre of North's best movements, being typically tough on the inside and a level above his opposition numbers when providing run outside of stoppages.
His 28 possessions, including six marks, only add credence to the influence the 19-year-old had on the game.
He also kicked the match-sealer.
"[It was] a great way to finish the last of the home games with a W," Davies-Uniacke told North Media.
"I missed one [goal] earlier today, which was a bit disappointing. I knew I had to slot that [last] one to be a bit more comfortable in the last quarter.
"The first one I didn't kick through the ball right, because I was a bit closer and you don't really think too much. I knew they were hunting a bit more and coming back with a bit of heat, I just really wanted to slot it through.
"I'm just trying to be consistent all the time now and putting my hand up for the AFL, which is a priority."
Best of VFL
Nick Rippon
Whatever Rippon lacks in height, he more than compensates for in sheer will and work-ethic.
Another energetic display from the 24-year-old, this time in a slightly deeper forward role, unearthed the potential of a pocket-sized forward.
Often favoured for his versatility across multiple roles, Rippon didn't look out of place when venturing forward, booting a season-high three goals at Avalon Airport Oval.
Talking points
Hartung makes return
Playing his first game in almost two months, Hartung returned with vigour, offering a different look in his three quarters completed.
Lining up against the VFL equivalent of the last side he faced at AFL-level, the 23-year-old didn't miss a beat.
The hard-running midfielder added two goals to North's total score and looked right at home, despite being rested at the last change.
"It was good to get back out there today and good to get the win," Hartung told North Media.
"It was about seven weeks ago I did the hamstring against the Doggies. A bit of a coincidence that I'm playing my first game back against them. It felt pretty good throughout the game."
Larkey in full flight
Looking to carry over the form from his five-goal haul against Williamstown, Larkey was an ever-present threat in North's forward six.
Although conditions made it difficult for the forward when kicking against the wind, the 20-year-old still ended the afternoon with three goals and seven marks, underlining his worth as a tall target.
Heading into the round as the competition's leading scorer, a bag in his final game of the season against Werribee, following next week's bye could seal his fate.
Unlikely triple threat
North's ability to spread its goal-scoring responsibilities was a key factor in Sunday's win.
The emergence of small forward Matt Northe and an unlikely bag from rover Rippon, who added a combined six majors, surprised many.

"To bounce back and get a win today was pleasing," continued Loader.
"Nick Rippon was doing what he usually does, which is that super hard-work around the footy and getting forward, which was fantastic for us. Matty Northe was pretty tireless all day.
"As a small forward, what he does is just keep giving you a contest, so those three guys were really influential."
Four-quarter consistency
The pinnacle of a winning result is a four-quarter performance.
A fightback in the third term may have derailed an otherwise energetic display, but North's firm grasp of the lead, which it held from start-to-finish, might just be the next best thing.

"We were consistent across the four quarters," explained Loader.
"Barring being outscored in the third quarter by a few points, we were pretty consistent all day. If you can win three quarters of footy in a game, you're probably going to win most of your games.
"The consistency that we've craved in the past, we got a bit more of today and ended up with the result, which was pleasing for the players."
The views in this article are those of the author and not necessarily those of the AFL or its clubs