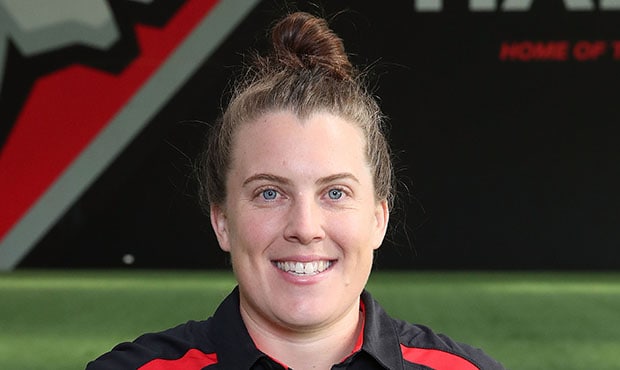 While the North Melbourne Tasmanian Kangaroos have arguably one of the strongest lists in the AFLW competition, it will mean nothing unless the players can come together and work as a team on the field.
Lauren Morecroft, recently appointed midfield coach, faces the challenge of helping to build not only a talented side, but a cohesive unit.
"I think being in the first year of a program is really exciting," Morecroft told North Media.
"Starting fresh is great and it's really exciting to look at the list that we've been able to build, there's a ton of talent on the page so hopefully we'll get it all together on the park."
Morecroft was picked up by Melbourne in 2018 after a year playing for the Bulldogs. She also brings invaluable AFLW coaching experience from Essendon's VFLW program.
"I think my footy knowledge and experience in AFLW will be a strength, but also my ability to build relationships amongst the list too. I think that's really key and a big part of our coaching philosophy at North," Morecroft said.
"I definitely have that insight into what an AFLW player feels like and what they want to get from a coach."
Already in Morecroft's favour, is exiting relationships with the majority of the North side.
"I already know a large portion of the women, probably around 90 per cent of the players. Obviously, a couple of the Brisbane girls I'm not too familiar with, but through state football and AFLW I've crossed paths with the others a lot. I've either played with or against most of them, so it'll be good," she said.
Morecroft also has a strong connection with North AFLW head coach, Scott Gowans.
"Scott Gowans coached me in 2017 when I was a player at VFLW Diamond Creek and we had a really good relationship," Morecroft said.
"He's an excellent coach and that helped me in my decision-making to come across to North Melbourne."
A multi-tasker, Morecroft will continue to juggle AFLW with full time work as a PE teacher.
"It forces me to be very good with my time management, it keeps me on point with what I do during the day and making sure all my classes are all up to date to make sure that I'm really committing to everything in the classroom and also at North Melbourne," Morecroft explained.
One of the few female coaches within the industry, Morecroft will add another dimension to the coaching staff.
Selected by AFL Victoria for the 'She Can' coaching program, Morecroft has been working diligently to develop and support the next wave of female coaches.
"I think it's critical [as a woman] to take opportunities that are at hand that suit you," Morecroft stated.
"Making sure the opportunities are a good fit for you is really key. Coaching for me probably came up slightly early, but the opportunities are so good at the moment for females in the AFLW and VFL that you have to take them and take the plunge and I think we are well supported now, so I think it'll be good."
The views in this article are those of the author and not necessarily those of the AFL or its clubs