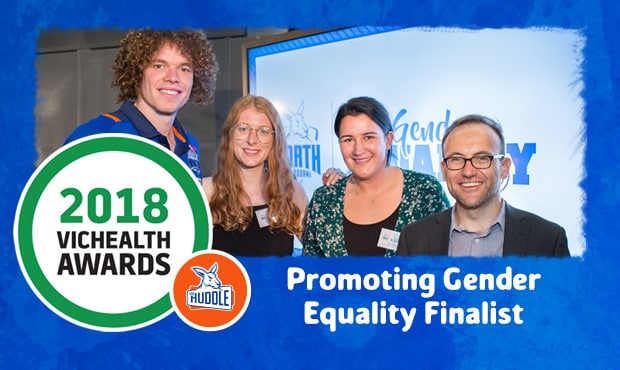 North Melbourne and its not-for-profit community arm, The Huddle, continue to kick goals with two finalist nominations in the upcoming 2018 Vic Health Awards.
The club's Gender Equality Action Plan and Be Brave, Speak Up campaign gaining recognition across the state.
Nominated for promoting equality for all, the club's Gender Equality Action Plan demonstrates a commitment to strengthen gender equality in the workplace, at games and in the community.
The Kangaroos leaders in the space, with the plan the first of its kind in Australian Sport when it was launched in February.
Guided by ten standards and informed by Our Watch's Change the Story Framework, the five-year plan was designed to create conditions where power, resources and decision-making are shared equally between men and women.
North Melbourne's Managing Director & CEO Carl Dilena, emphasised the significance of the plan.
"There are systemic challenges facing women and gender inequality is a daily experience throughout our society," Dilena told North Media
"It is time to change the story, for all women. Sport and the AFL in particular play an important role in shaping Australian culture, beliefs and behaviours.
"Accordingly, they provide an important platform for driving behavioural change and North Melbourne wants to play a lead role in driving such change."
The Huddle's Be Brave, Speak Up Campaign nominated for the 'communications in health promotion.'
In partnership with VicHealth, the Scanlon Foundation, City of Melbourne, Moonee Valley City Council and the Foundation for Young Australians, The Huddle worked with 100 culturally diverse young people over a 12 month period to address issues that impacted their mental health, resilience ad social inclusion.
Racism was identified as the common theme, in which the youth were then challenged to produce a campaign to help create change.
Be Brave, Speak Up was brought to life by a group of 13-19-year-old youths, from Chad, Ethiopia, Eritrea and China.
The campaign had two key objectives; to raise awareness about the issue of racism in Australian communities and its impact on young people's mental health and wellbeing; and to educate individuals about effective strategies for addressing racism and race-based discrimination when they witness it in the community.
Aiya Idris from the Flemington Community Centre worked closely with the young people involved and noticed the impact of the campaign.
"For the young boys, this project has helped them realise that race doesn't determine their identity. Even if they've had negative experiences, they're so much bigger than some people might say, and we see that clearly in the video," Idris said.
The Gender Equality Action Plan and the Be Brave, Speak Campaign, are both set to change hearts and minds, and help create a more equal Australia.
Winners will be announced at the awards ceremony on Wednesday, December 5th.
The views in this article are those of the author and not necessarily those of the AFL or its clubs