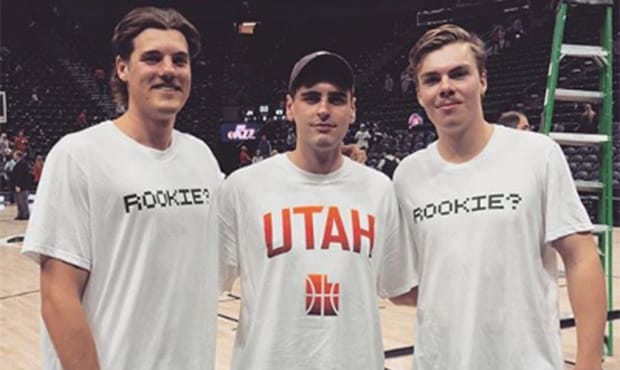 The early return to training wasn't early enough for a dedicated group of first-to-fourth-year players, who jetted off to Utah to get a head-start on their pre-season.
Cameron Zurhaar and Paul Ahern were two of the young Roos that self-funded their trip to the United States as they looked to hit the ground running ahead of the 2019 season.
"I spent the last two weeks in Utah with Cam Zurhaar, Declan Watson, Sam Durdin, Alex Morgan and Braydon Preuss," Paul Ahern told North Media.
"We went over to do some extra training and to get a head-start on pre-season, which should hold me in good stead."
With the Utah training facility high amongst the mountains, the increased altitude created unique and challenging training conditions for the group.
"It was to go over there and train in a different environment and different climate," Ahern said.
"The altitude definitely makes a difference in breathing and in training, and it takes a couple of days to adapt.
"We stayed near some really good skiing facilities, with a great gym and running tracks as well.
"We haven't been on too many big runs yet, but I'm hoping that when we do the time trials and things like that it will help me."
After fracturing his ankle against Gold Coast last season, Cameron Zurhaar was eager to get back into the swing of things.
"It was good to be able to get head start on training after being injured last year, and help me get back in the rhythm," Zurhaar said.
"I'm feeling fit and ready. I'm slowly working back into it with my ankle, but so far so good."
The trip wasn't all about training, as the young group bonded during their time off.
"It was good to be able to do hikes on our days off and spend time together as well," Ahern said.
"We worked hard while we were there, but as it was in our off-season part of the trip was to get away," Zurhaar added.
"We got to see some other high-level sports like NBA and NFL which was great, but the main reason was to train."
The views in this article are those of the author and not necessarily those of the AFL or its clubs