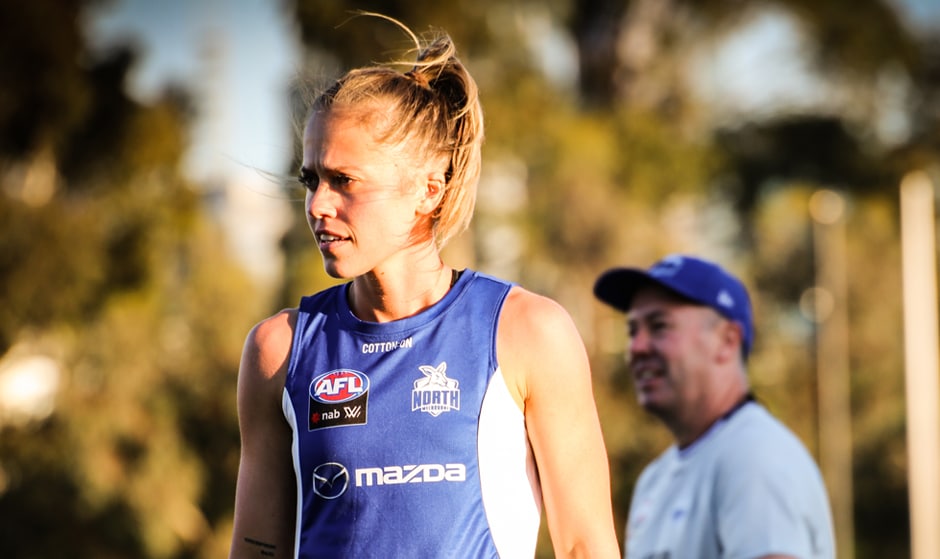 As the North Melbourne Tasmanian Kangaroos' first ever Melbourne-based AFLW training session got underway, Emma Kearney's path to the Arden Street oval was blocked by a gaggle of enthusiastic kids.
Kearney, the captain of the fledgling team and the 2018 competition best and fairest, crossed to the Kangaroos in the off-season after two years at the Western Bulldogs.
A teacher by trade, she is now working full-time with the club's community branch, the Huddle. On Thursday night, Kearney was swamped by the kids she works with, who were playing at the adjacent basketball court, and she had to tell them it was her turn to play footy.
Their excitement was infectious. Led by Kearney, star players including Kaitlyn Ashmore, Jess Duffin, Emma King, Moana Hope, Jasmine Garner, Jamie Stanton and Danielle Hardiman had chosen to move to North Melbourne to play for its inaugural team and this would be the first time they would take to the track.
Staff members watched on, including the club's football operations manager Laura Kane, who had spearheaded the bid for a licence and set up the program. Ben Brown, gun forward of the club's AFL side and a development coach of the AFLW team, worked on the sidelines with Hope.
"The focus is to enjoy the moment. We spoke about time and how really there's only about 48 to 50 hours on the track before round one, so it's really short time frame," coach Scott Gowans told the league's website.
"You can't really develop a lot of the kick, mark, handball in that space of time, but what you can do is bond together and play as a unit."
North Melbourne's bid for an AFLW licence included an alliance with Tasmania and a commitment to developing female talent in the state.
The seven-strong Tasmanian contingent of the team – Daria Bannister, Nicole Bresnehan, twins Chloe and Libby Haines, Emma Humphries, Maddison Smith, and rookie Jessie Williams – had their first training session on Wednesday night in their home state.
It's been a significant logistical challenge for Kane and AFLW operations manager Matt Bolitho to arrange. The Tasmanian girls will have two skills sessions a week in their home "half" of the state, either in Hobart or Launceston, with one additional session all together, alternating between the cities.
The first training night in Tassie saw beautiful 19-degree conditions for the Launceston players, while the Hobart group shivered through a wet, windy session.
Trent Bartlett is the assistant coach in charge, having been involved in women's footy in the state since 2011, including coaching the under-18 side in recent years.
High performance coach Jacqui Liffiton is also on hand, and training numbers will be supplemented by local players.
One member of the five-player leadership group – Kearney, Ashmore, King, Duffin and Brittany Gibson – will take turns spending a week at a time training in the southern state, with Gowans also making regular trips to run sessions.
The players will at times train in Melbourne, while North Melbourne's first game will be against Carlton at North Hobart Oval on Sunday, February 3.
The Melbourne-based players will travel south to reunite with their teammates for a training camp in mid-December.
"It's a challenge to make sure you get [the set-up in Tasmania] right. It's also a challenge from the perspective of distance and catching an airplane, going down there, the girls doing the same coming up here, but what an opportunity," Gowans said.
"The talent that's down there is amazing. There's a lot underneath that people don't see because they don't go down there and actually have a look. There's probably another 10 to 15 girls now who would make the end of [an AFLW] list somewhere, [they would] definitely play VFLW, but through location can't at the moment.
"We can only fit so many on the list, but I think over the next two or three years we'll easily start to head towards getting half the list there."
Not one to shy away from a challenge, Gowans has a special aim in mind for his new squad, with Kearney at the helm.
"The main focus for us is how well we jell and play as a team," he said.
"There's an interesting fact I was told: no expansion team has ever come into a competition in any sport and won it [in their first year]. So it's a great opportunity to try and do that and just see how we go."
The views in this article are those of the author and not necessarily those of the AFL or its clubs