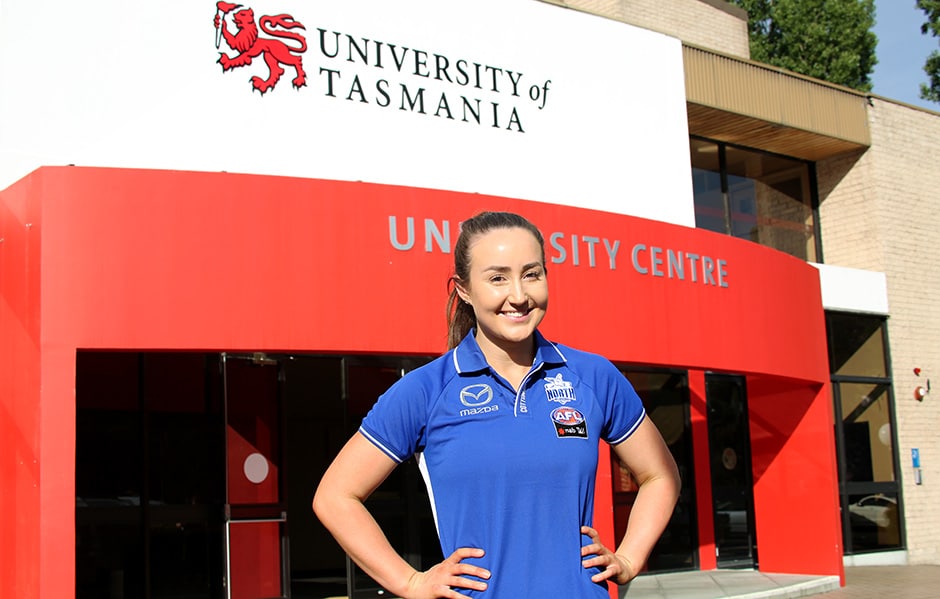 The North Melbourne Tasmanian Kangaroos are thrilled to announce a partnership with University of Tasmania to collaborate and further engage youth in education and career pathways.

The collaboration is focused on the University and North Melbourne Tasmanian Kangaroos' mutual commitment to enhance education and community outcomes in both Tasmania and Victoria.

The partnership provides opportunities to collaborate in research, facilitate internships and operate Tasmanian community programs.

University students will also benefit from exclusive work experience and volunteering opportunities across the club and North's match days.

North CEO and managing director Carl Dilena said it was another exciting layer added to the club's AFLW team.

"The current landscape of the AFLW competition means most of the players still have full-time jobs or study commitments outside of playing professional football, which makes the flexibility in study crucial," Dilena said.

"We are continually seeking ways in which we can provide opportunities not only for our players but our community.

"This partnership not only encourages flexible study options around busy schedules but creates real role models within the community."

University Deputy Vice Chancellor (Global) Rob Atkinson, whose portfolio includes marketing and sponsorships, said the North Melbourne Tasmanian Kangaroos would be powerful role models in a state with a proud football heritage.
"In short time, the AFLW has truly captured the imagination of the sporting public," he said.
"We are especially proud to be contributing to that heritage while entering into an agreement which specifically supports women's sport."
The University will work with the Kangaroos to provide opportunities for players to further their education whilst building their AFLW careers.
For current University student and AFLW player, Nicole Bresnehan, it's an exciting prospect for furthering her study and encouraging more players to explore education during their football careers.

"I consider myself fortunate to have the flexibility in study which enables me to pursue my sporting dreams while working full time," Bresnehan said.
"As a part-time athlete it's really important we pursue careers outside of the sport we love, and I am fortunate enough to do it in a place I love."

The University logo will feature on the Kangaroos players' match day and training shorts, and North will play the Bulldogs at University of Tasmania Stadium in Launceston next season.

The partnership was announced at the North Melbourne Tasmanian Kangaroos' first training and community camp in Hobart, just days after existing club partners Mazda Australia and Spirit of Tasmania extended their commitment in to AFLW.