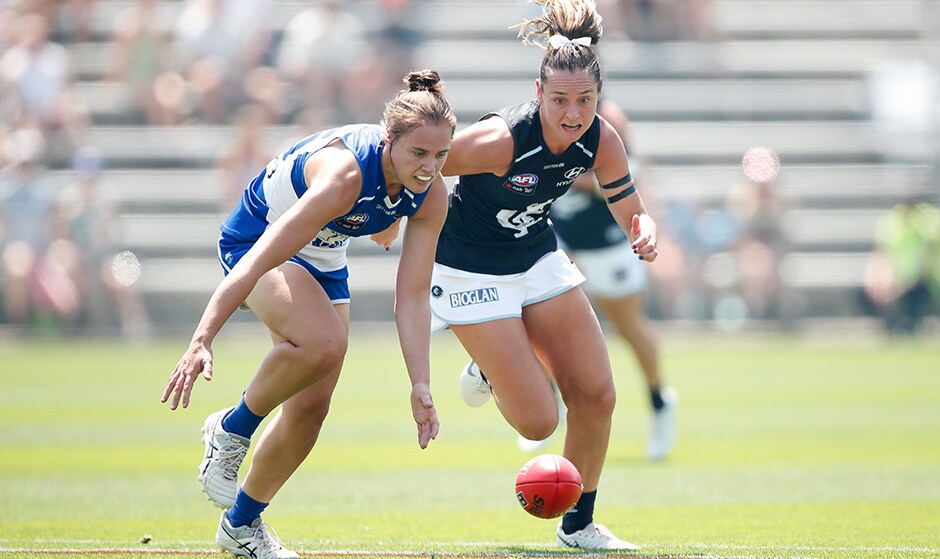 Five North Melbourne Tasmanian Kangaroos' stars have shared 29 of the 30 votes award by the coaches following Sunday's win over Carlton.
Forward Jasmine Garner claimed top honours with nine votes, while debutant Ash Riddell was recognised with seven votes for her 16 disposal and one goal performance.
Emma King, Jess Duffin and Kate Gillespie-Jones were awarded six, four and three votes respectively, fitting rewards for their positive contributions.
North v Carlton votes
9 - Jasmine Garner
7 - Ash Riddell
6 - Emma King
4 - Jess Duffin
3 - Kate Gillespie-Jones
1 - Madison Prespakis (Carl)
North leaderboard

9 - Jasmine Garner
7 - Ash Riddell
6 - Emma King
4 - Jess Duffin
3 - Kate Gillespie-Jones
Overall leaderboard
10 - Emily Bates (BL), Nina Morrison (GEE), Lauren Spark (WB)
9 - Jasmine Garner (NM), Karen Paxman (MEL)
8 - Ally Anderson (BL)
7 - Ellie Blackburn (WB), Kiara Bowers (FRE), Ashleigh Brazill (COLL), Ebony Marinoff (ADEL), Ashleigh Riddell (NM)
6 - Ebony Antonio (FRE), Emma King (NM), Jaimee Lambert (COLL), Jess Wuetschner (BL)