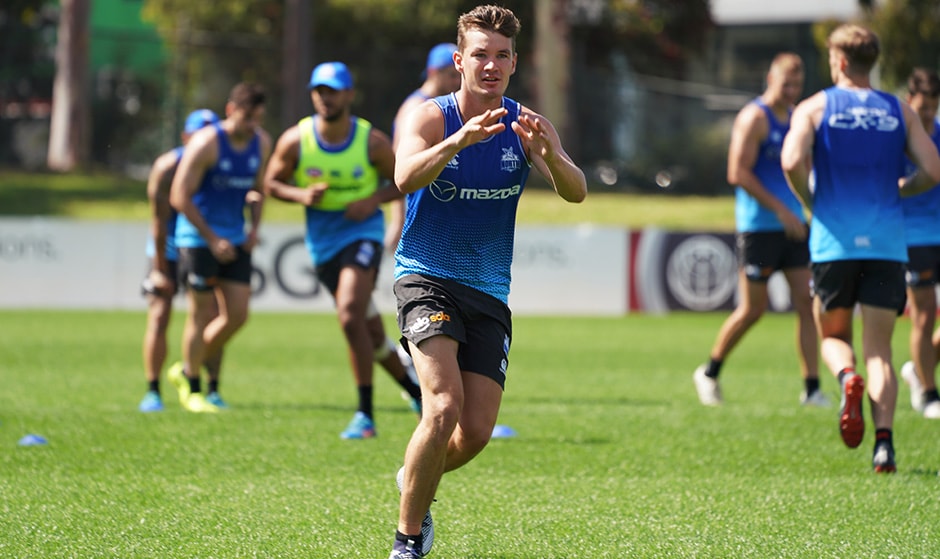 For North Melbourne forward Kayne Turner, there's one main focus; more goals.
The 23-year-old only managed eight majors in his 22 appearances last season, and knows it's the area of his game that needs the most improvement.
"I definitely want to hit the scoreboard more this year," Turner told North Media.
"I think that's something I was good at a couple of years ago, but last year it dropped off.
"As a medium-sized forward you're going to have games where you're not going to have a great impact, but there's always an opportunity to hit the scoreboard which can turn an average game into a really good game."
Heading into his sixth season, Turner has been working closely with the club's experienced assistant coaches to make sure he can rediscover his form in-front of goal.
"I set pretty high expectations (last year), and I probably didn't meet a lot of those," he admitted.
"I'm always looking to improve, and I've worked with Leigh Tudor, Brent Harvey and even Brendan Whitecross, who have been a massive help.
"With the way we're training and the way we're moving the ball, hopefully I can get on the scoreboard a bit more."
Turner said getting the ball wasn't the issue, but perhaps using it better was.
"It's not so much about change, it's about finishing opportunities as much as anything," he said.
"I think I had enough shots last year, I probably just either passed them off or didn't finish.
"This year it's more about focusing on a new set-shot routine, so fingers crossed that can work out."
Although Turner will put a greater focus on his offensive game, he's confident it won't detract from the high-pressure defensive role that saw him become a staple of North's forward-line.
"Those defensive acts come more naturally to me now, so it's not something I have to focus too hard on," he said.
There were plenty of positives for Turner last season, including the fact he was able to get through a full season unscathed.
"I was happy to stay injury-free all year, and be able to get through 22 games, which is a nice change," he said.
"The body's feeling really good at the moment. I haven't had any issues, I've been able to do pretty much all of the pre-season, if not all of it.
"I'm not feeling like I'm starting behind this year, so that's a big positive."
The views in this article are those of the author and not necessarily those of the AFL or its clubs