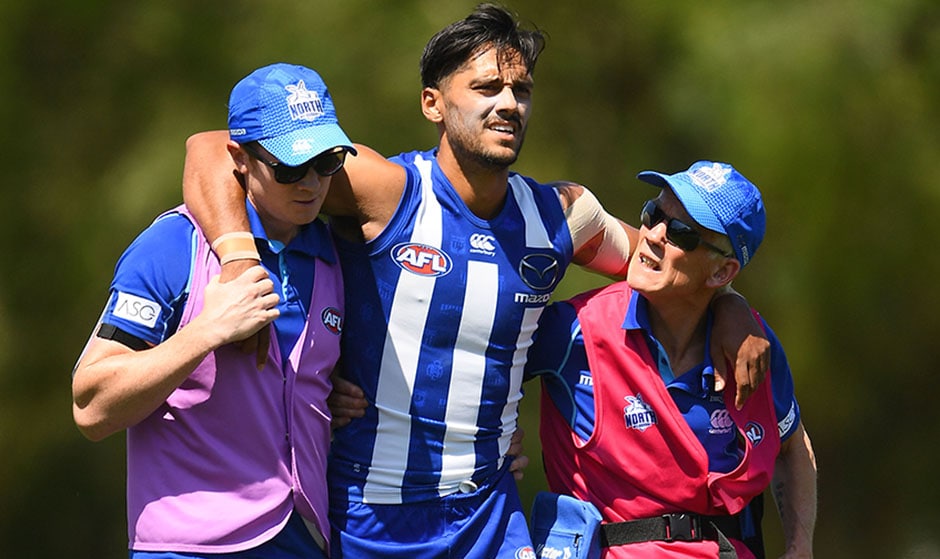 North coach Brad Scott said prized recruit Aaron Hall had escaped serious injury after Pierce fell across his left knee 10 minutes into Saturday's game.
Hall returned with his knee strapped and played the second quarter but did not return after half-time.
"He went out and played and he said, 'Look, it's just a bit sore,'" Scott said.
"My attitude was why risk him? He's escaped without any structural damage, let's just make sure he's right for next week."
However, the Roos coach said his team's forward line mix remained up in the air with just one pre-season game remaining before its round-one clash against Fremantle.
With Ben Brown held to just one mark and one goal by Saints veteran Nathan Brown, Mason Wood and Nick Larkey, who was required in defence at times, struggled to provide the Roos with strong aerial targets.
"That was a poor part of the game for us today. We had 58 entries and scored poorly from them," Scott said
"Browny's got his sort of pre-season mode almost down pat, no one gets himself to the line better than Browny.
"He's working with a different crew down there as well. We've got seven new players who don't understand our system perfectly yet, so we're going to have to do a lot of work over the next three weeks on how we deliver the ball inside our forward 50.
"And the mix as well is important because we're not sure what that looks like yet."
However, Scott was more confident his backline would be ready for round one even if vice-captain Robbie Tarrant is ruled out with an AC joint injury.
Scott said he had been happy with young defender Ben McKay's performance against the Saints, and with Larkey's efforts in his time inside the Roos' defensive 50m arc.
The views in this article are those of the author and not necessarily those of the AFL or its clubs