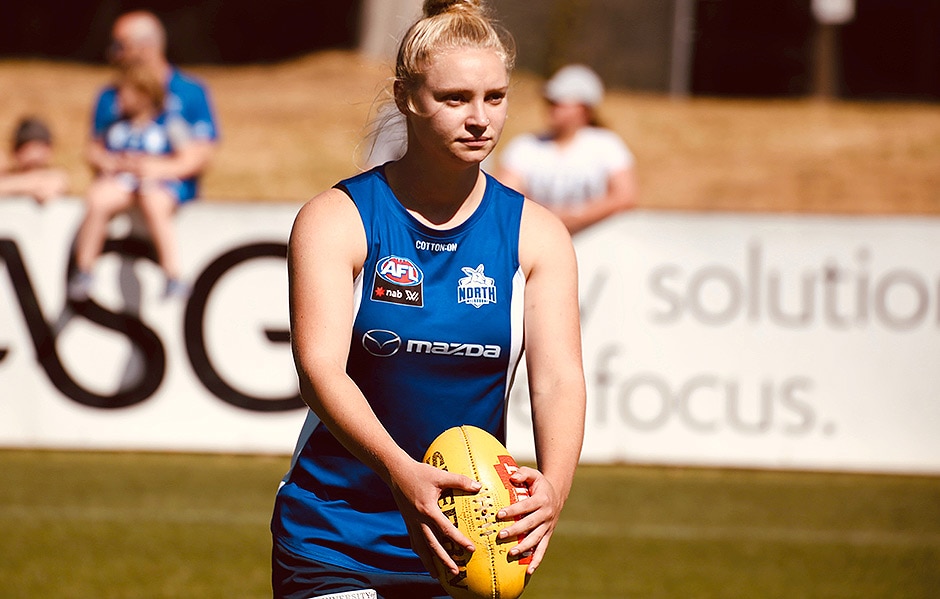 North Melbourne Tasmanian Kangaroos' coach Scott Gowans didn't expect to have Daria Bannister back this season.
Having ruptured an ACL playing for the Western Bulldogs in Round 1 last year, it's been a long and patient recovery for the forward.
But Bannister has done everything right, and will now be hoping to lock down in a place in the Roos' 21, after being named to debut on Saturday.
"It is unbelievable really that she is back, but she has just worked so hard in her rehab,'' coach Scott Gowans told The Advocate.
"If I am being honest I didn't think she'd get up this soon, but she decided 'no that wasn't going to be the case'.
"We had a chat mid-November and I said to her you have to tick everything off with the high performance team and they will give you a program and at every stage as soon as you have a setback, it is probably curtains.
"She said no worries and just went ahead and just flew through it, so it is a credit to her.
"A criteria was that she had to spend two weeks up here (in Melbourne), so we could tick it off as I wasn't able to have eyes on her in every session down in Tassie and she also played a VFLW scratch match and did very well with that.
"And it is a credit to her as she has ticked every box."
The Tasmanian is expected to play in attack, with Gowans hinting a role in the midfield next season.
Utility Taylor Mesiti will also pull on the royal blue and white stripes for the first time.
"We just felt that if we were going to make changes, we needed to bring in people that would give us a good contest and both those girls will, but part of it as well was that we felt we needed to freshen it up a little bit," Gowans said.
"It also frees us to play Britt Gibson further up the ground a bit more, because Taylor can take that spot that Britt currently has, and going the other way Daria can play the role that Sophie Abbatangelo does and we can play her more as a mid, so it gives us more flexibility."
While Collingwood is yet to win a game this season, Gowans expects a fierce contest.
"We just have to win that inside ball, and Collingwood are actually ranked in the top couple when it comes to their inside ball work, so with the contested possession, we need to win that," he said.
"We are a big uncontested side because of the way we play the game, as we like to get a Jess Duffin there to intercept and then control the ball in our back half.
"This week we need to bring that, but when the ball is there to be won, we need to make sure we have the numbers there to win the ball and get it out to our runners and that is how we will beat them.
"If we get into a game where it is stoppage after stoppage and there is pressure all over the ground, we are going to be in a battle all day."
The Roos take on Collingwood at Marvel Stadium from 4.40pm AEDT on Saturday.