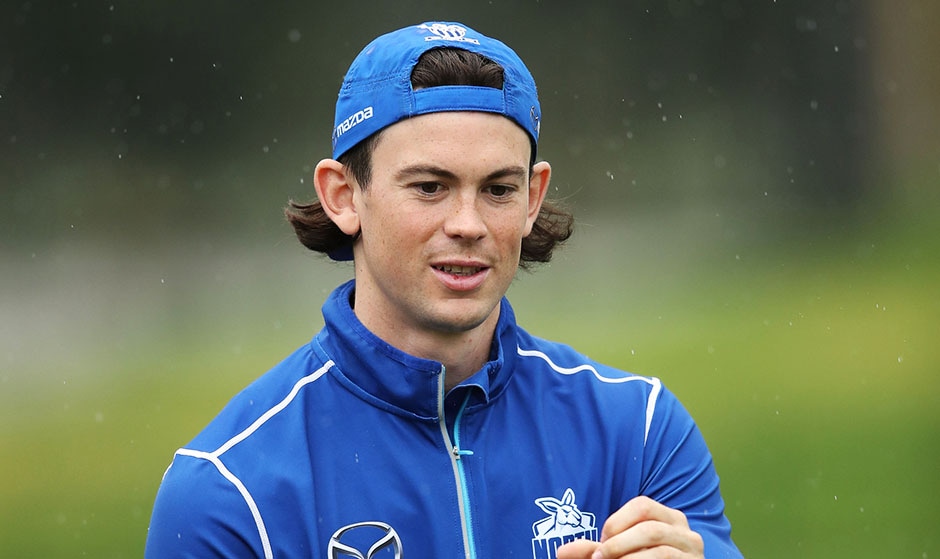 1 - Majak Daw
Following an off-season incident, Daw has recently returned to the club to undergo rehabilitation for a serious hip injury.
Round 1 potential: Daw isn't in the frame for a return early in the season, but is hoping to play again at some stage this year.
2 - Marley Williams
After enjoying an injury-free 2018, Williams continued that trend into the recent summer training block, rarely missing a session.
The former Magpie played in both pre-season matches, collecting 29 disposals in JLT1, but a minor calf complaint saw him miss the second half of JLT2 against Port Adelaide.
Round 1 potential: North will be cautious with Williams in the lead-up, given the important role he plays in the backline. If fit, Williams will be a certain starter.
11 - Luke McDonald
After working to spend more time through the middle of the ground last season, McDonald put a strong emphasis on refining his defensive craft this pre-season.
The 24-year-old has drastically improved his running ability over the break and has lost weight in a bid to take his game to the next level.
Round 1 potential: A feature in both JLT matches, and his ability to play in multiple roles has made him a certainty to line-up against Fremantle.
16 - Scott Thompson
In his 12th pre-season, Thompson continued to keep up with his younger teammates, taking part in every session as well as intra-clubs and match simulations.
The veteran defender was left out of JLT1 in a bid to put the younger defenders to the test, but featured the following week against Port Adelaide and showed why he was rewarded with a new contract at the end of 2018.
Round 1 potential: Thompson is unavailable until Round 2 due to a suspension for striking St Kilda's Jack Steele in Round 23 last year.
17 - Jasper Pittard
Having made the move from Port Adelaide in October last year, Pittard is hopeful he can rediscover his best football at Arden Street.
A minor calf complaint prior to Christmas forced Pittard to modify his training loads, however the defender was back at full fitness in time to play all eight quarters in the JLT series.
Round 1 potential: Given his explosiveness off half-back and his ability to play tall, he ticks all the boxes for North, which puts him in a good position to play in the season-opener.
19 - Sam Wright
Following an injury-plagued past few seasons, Wright completed his most solid pre-season in recent years.
A "knick to his quad" kept him out of action in JLT1 but the 28-year-old lined-up against Port in JLT2 but re-injured his quad.
Round 1 potential: If available, Wright is well and truly in the mix.
23 - Ben McKay
McKay came back to pre-season with a point to prove, as he looks to cement a spot in North's best 22.
Completing every session and having put on more muscle and overall size, he held a key defensive post in both JLT matches.
Round 1 potential: With Scott Thompson, Sam Durdin and Majak Daw unavailable, and Robbie Tarrant in a race against time for Round 1, McKay is a lock to line-up on one of Fremantle's tall forwards.
24 - Sam Durdin
Coming back from a broken leg, Durdin was on a restricted program pre and post Christmas, and then everything came to a halt in February after a mishap at home caused a serious injury to his little finger.
Still on the mend, Durdin is unable to take part in the majority of drills.
Round 1 potential: The 22-year-old is unavailable and should be back in action in four to six weeks.
25 - Robbie Tarrant
A calf injury in the early stages of the pre-season forced Tarrant to get off to a slow start.
A fortnight into his return, the experienced defender injured his shoulder in a tackle during an intra-club match. He had surgery to repair his AC joint.
Round 1 potential: The ultimate professional, Tarrant is doing everything he can to be passed fit. If he is to pass all the relevant tests, there's little doubt he'll be named.
33 - Ed Vickers-Willis
The start of Vickers-Willis' pre-season was delayed as the defender continued to recover from the PCL injury he suffered in Round 7 last season.
Having slowly progressed over the summer, the 22-year-old returned to full fitness and was able to feature in both JLT matches.
Round 1 potential: Vickers-Willis' ability to play tall makes him a valuable asset, and with a tall Fremantle forward-line, he seems a likely member of the side.
34 - Jamie Macmillan
Macmillan's pre-season would have ranked amongst his best yet, until a calf injury stopped him in his tracks.
After 40 disposals in JLT1, the defender was injured during training and was ruled out the final JLT match.
Round 1 potential: If passed fit, Macmillan is a certain starter.
39 - Tom McKenzie
Selected in last year's Rookie Draft, McKenzie's progress came to a halt just after the Christmas break due to a back complaint.
Round 1 potential: McKenzie is unavailable.
40 - Tom Murphy
After debuting in 2018 and earning a contract extension, Murphy came into the pre-season looking to add to his games tally.
An under-the-radar operator, Murphy took part in the majority of sessions, and played in the opening JLT match against St Kilda.
Round 1 potential: The 21-year-old has proven he can play at the elite level, however players with greater experience may be ahead of him.
47 - Red Og Murphy
Arriving at the club this year from Ireland, Category B rookie Red Og Murphy continues to learn the fundamentals.
The talented Gaelic footballer has impressed already, featuring in the club's VFL matches.
Round 1 potential: With plenty to learn, an AFL debut isn't on the cards just yet.
The views in this article are those of the author and not necessarily those of the AFL or its clubs