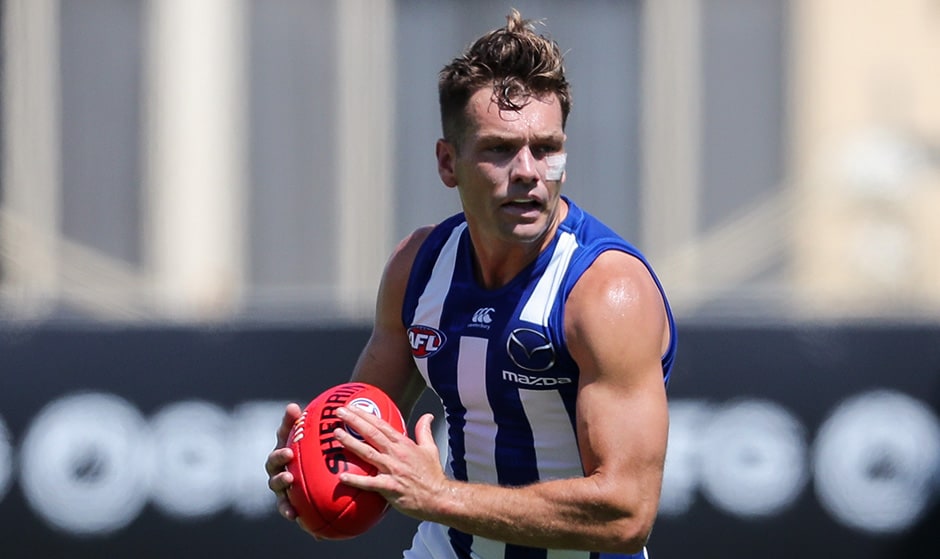 3 - Jed Anderson
Anderson impressed many at the start of the pre-season by returning a week early and joining the first-to-four-year players.
That strong form continued up until recent weeks, when the midfielder was struck down with a hamstring injury, which kept him out of both JLT Series matches.
Round 1 potential: Anderson is unlikely.
4 - Shaun Higgins
After a career-best season, Higgins returned in tip-top shape and ready to build on what was an outstanding 2018.
While his loads were somewhat managed, the 31-year-old took part in all match simulations and intra-clubs, as well as AFLX and both JLT Series matches.
Round 1 potential: Consider Higgins a certainty to line up against Fremantle.
5 - Ben Jacobs
Having missed the second half of 2018 through injury, Jacobs had a frustrating pre-season, and faces an uphill battle to be ready for Round 1.
Round 1 potential: Jacobs will be unavailable.
9 - Luke Davies-Uniacke
Taken at pick four in the 2017 draft, Davies-Uniacke managed just the seven games in 2018, but came back to pre-season with a vengeance.
Looking leaner, stronger and playing with more confidence, 'LDU' played in both JLT Series matches and was amongst the top performers.
Round 1 potential: The young midfielder has been nothing short of impressive all summer, and has given himself every chance to earn a Round 1 berth.
10 - Ben Cunnington
Aside from suffering a heavy corkie in recent weeks, Cunnington's pre-season was nothing but consistent, rarely missing a session.
Even though he didn't feature in the JLT Series, the 27-year-old is the ultimate professional and has got himself in a position to seamlessly transition back into the side.
Round 1 potential: Cunnington has said he is a certain starter for Round 1, so there's no doubting whether he'll make the trip west.
12 - Jy Simpkin
In his third pre-season, Simpkin put a greater emphasis on developing his midfield craft and building on his progress in 2018.
Playing predominately through the middle in the JLT Series, it seems the 21-year-old has done enough to earn a spot in the midfield rotation.
Round 1 potential: Simpkin's versatility to play as a forward and midfielder makes him a strong chance to earn a Round 1 berth.
13 - Jared Polec
Coming to Arden Street as a high-profile recruit, Polec's pre-season was exactly what you'd expect from someone of his calibre.
Rarely missing a session and playing in every possible match simulation, intra-club and practice match, as well as AFLX, Polec has made a good first impression at his new club.
Round 1 potential: Fully fit and in good form, Polec is a lock to play Round 1.
14 - Trent Dumont
Following a strong end to the 2018 season, Dumont continued that trend over the summer, setting the training track alight.
Dumont featured in both JLT Series matches, and is injury-free and ready to continue his development.
Round 1 potential: Having locked down a spot on the wing in 2018, Dumont would be considered very likely for the clash at Optus Oval.
15 - Paul Ahern
Ahern's pre-season got off to an early start, self-funding a trip to Utah to get a jump on the competition.
Having lost weight and built-up his endurance base, Ahern is in career-best shape and he reaped the rewards in the JLT Series.
Round 1 potential: Ahern's pre-season has been outstanding, and has done everything in his power to be picked in the Round 1 side. Certainly in the mix.
21 - Dom Tyson
Tyson's professionalism and class was on display from the moment he step foot into Arden Street, doing everything he could to get back to his best.
A prominent feature in North's midfield during the JLT Series, Tyson's ability to win the ball on the inside and outside, and use the footy well, has been a stand-out part of his game.
Round 1 potential: Tyson has added real class and depth to the North midfield, and is a solid chance to make his club debut on March 24.
22 - Todd Goldstein
After a strong 2018, Goldstein continued to impress in the pre-season, rarely missing a session.
The ruckman was a star performer in JLT1, but was left out of the following match to ensure he was fit and ready for the Round 1 clash.
Round 1 potential: Goldstein is as close to a lock as they come.
30 - Bailey Scott
From the moment Scott was drafted, his professionalism and incredible work ethic was on display.
Featuring on the wing in both JLT Series matches, the 18-year-old was a shining light, and caught the eye of all those watching.
Round 1 potential: With the competition for midfield spots at a high, Scott is no certainty to feature, however he's certainly done enough to put himself in the conversation.
37 - Kyron Hayden
After a delayed start to the pre-season, Hayden returned to the main group just after Christmas.
Hayden didn't feature in either JLT Series match, however he was a presence in the VFL practice matches, impressing the coaches in a midfield role.
Round 1 potential: Missing the JLT Series hasn't helped Hayden, however he was an emergency in both matches, so it's safe to say he's in the mix.
38 - Tristan Xerri
It was tough going for Tristan Xerri this pre-season, sidelined because of an injury.
Round 1 potential: Xerri is unavailable.
42 - Tom Campbell
Joining the club in December, Tom Campbell hit the ground running at Arden Street, impressing in match simulations and intra-club matches.
Campbell shared the ruck duties in JLT1 and was a solid performer, then was handed the reigns in JLT2 and was tested against the formidable duo of Scott Lycett and Paddy Ryder.
Round 1 potential: Having been suspended after an incident in JLT1, Campbell is unavailable.
43 - Aaron Hall
Having joined North Melbourne in the off-season, Aaron Hall's pre-season was one of those looking to get back to their best form.
Hall suffered a scare in JLT1 after leaving the ground with a knee injury, but put concerns to rest by playing the full four quarters against Port Adelaide the following week.
Round 1 potential: Hall's ability to play in a range of positions, makes him a valuable player for the Roos, and a good chance for Round 1.
The views in this article are those of the author and not necessarily those of the AFL or its clubs