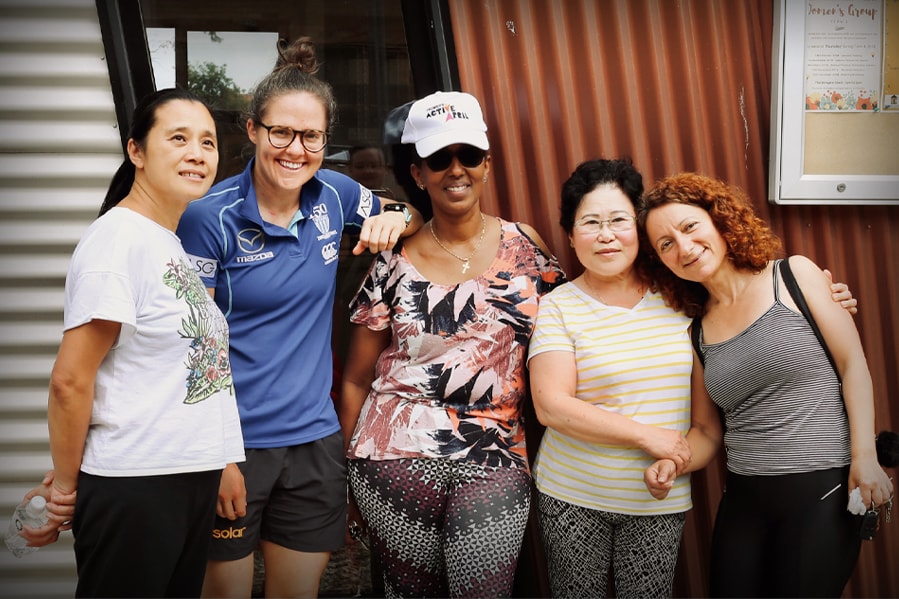 A teacher-by-trade, North Melbourne Tasmanian Kangaroos skipper Emma Kearney knows a thing or two about fitness.
With a background in multiple sports, Kearney understands the importance of maintaining a healthy lifestyle.
Outside of her footballing pursuits, the two-time All Australian serves as a community sport & recreation coordinator for North's not-for-profit community arm, The Huddle.

When she's not contributing to her local area, Kearney donates her time to the Wingate Avenue Community Centre, where she holds dancing classes for middle-aged women twice a week.
"It came about as I saw a window for physical activity that was being missed," Kearney told North Media.
"When I first started, I looked at all the programs that were running. Even though The Huddle looks after younger people, I thought there was a space for older women.
"We initially started with circuit training and different fitness activities, but it was dance that they really loved. That's how it came about."
As part of Premier's Active April, the Victorian Government is encouraging people to increase their physical activity by up to 30 minutes a day during the month of April.
Kearney revealed that the benefits of dance have been mutually beneficial.
"It's probably the highlight of my week, because they always have big smiles on their faces," she said.
"I don't have any background in dance whatsoever, so I put on a track, make up some moves and they follow me.
"There's massive health benefits, but the one thing that the women's dance class has provided the girls with, is that social element. You can always see them having a chat with each other.
"Even if there's a language barrier, we communicate in other ways.
"There is a Vietnamese lady, who is just beautiful, she told me that she's sad at home, but happy at dance class. Having that feedback is really special to me."

Creating long-term healthy habits is important, but connecting with disengaged communities is just as valuable, according to Kearney.
"Whether it's for 30 minutes of a couple of hours, I think it's really important for us to be active," she continued.
"Having spaces where females can exercise without judgement is important and is a goal of mine.
"We're looking to target disengaged people in our region. In this case, Wingate Avenue is right in the commission flats.
"There aren't a lot of free fitness classes and that's why it's important to keeping these classes going."

All it takes is 30 minutes of physical activity a day during April. Click here for more information about Active April.