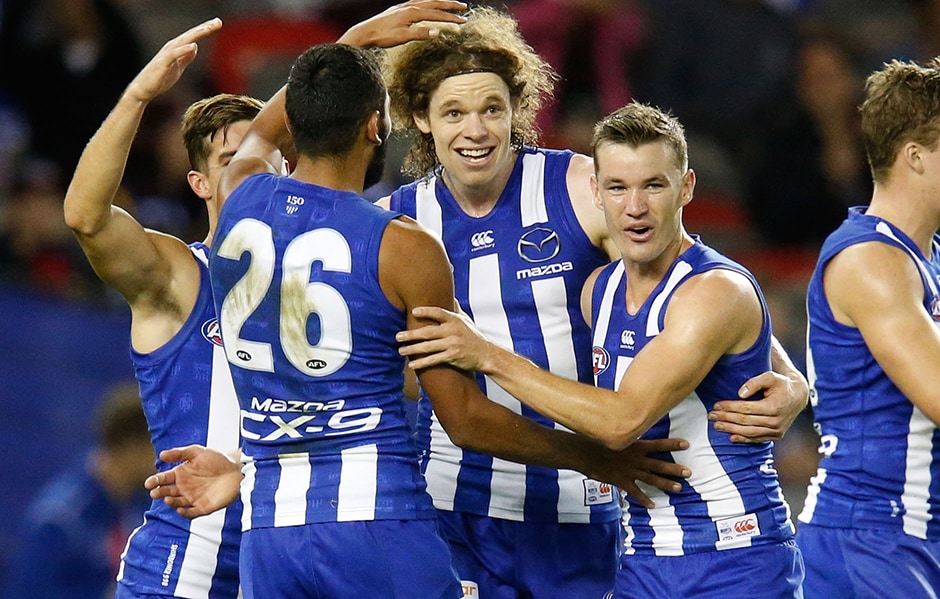 With North Melbourne recording its first win of the season on Saturday night, there were plenty of talking points for the media.
The forward line was a key area of focus, after criticism in the opening weeks.
Ben Brown responded in style, with four goals.
"He's a very tough match-up. His past four years have been outstanding. His strength is how good he is aerially, so why wouldn't you play to your strengths?" - GWS Giants' Phil Davis (Game Day)
"Whatever (Brad) Scott said to Brown at half-time must've worked, as the power forward came out with a dominant third quarter to help the Kangaroos take the lead heading into the final term." - Matt Balmer (Fox Sports)
For Brown, it was only a matter of time until things clicked.
"For us it was about believing in our system. In the first three weeks we obviously found out about some areas we need to improve on and work hard at.
"Pressure was a big one for us. We really stepped that up particularly in the second half, and that was really positive.
"I think we started using the ball a bit more up the field, which helped us as forwards. Looking at the scoreboard, 9.17 isn't exactly what you want to see, so there's heaps of room for improvement." - Brown (3AW)
The ability of the number 50's support crew had also been questioned in 2019, but the forwards showcased what they are about on Saturday night.
"The tantalising talent that is Mason Wood made his return to the AFL scene on Saturday night, one week after calf awareness kept him to less than a half in the VFL. Injury is the story of Wood's career to date, but he and North Melbourne need each other.
"Don't buy into the narrative that Jarrad Waite should still be on the Roos' list – it was time for them to move on and see what their younger crop could do. Ben Brown needs help, but he'll need that for six or seven years to come. Wood and Nick Larkey should be first in line to provide that support.
"It's no coincidence Brown had his best game this season with the athletic Wood alongside him. Larkey might have to wait a bit longer, because the terrier-like trio of Kayne Turner, Cam Zurhaar and Tarryn Thomas worked a treat defensively, too.
"Wood covered the ground well and was strong aerially, but most importantly provided better support for spearhead Ben Brown, who responded with four critical goals." - Marc McGowan (AFL.com.au)
"Last week against Hawthorn (North) looked like Ben Brown or bust, but they had Mason Wood, who didn't kick a goal, but presented really well, Jack Ziebell up forward was pretty good and Kayne Turner showed he could mark above his head." - Nathan Brown (Sunday Footy Show)
The forward-line led by Brown impressed their teammates as well.
"'Browny'and 'Ziebs' (Jack Ziebell) had a big impact in the second half. We knew we had been shallow with our inside 50s in the first half and needed to get it deeper to get the pressure on, and we did that which played to the strengths of the small forwards too." - Shaun Higgins (ABC Grandstand)
Jed Anderson's return also garnered plenty of attention, with the tough midfielder bringing some much-needed aggression.
"North Melbourne controlled the game from the start by strangling a Crows team intent on committing self-harm in terms of their ball movement.
"The Kangas, led by Shaun Higgins and Anderson, were aggressive with their running and at the contest. Higgins is an elite player and Anderson is a card-carrying member of the UUA (United Underrated Association).
"In his first game of the season he (Anderson) had a game-high 13 contested possessions from his 19 overall disposals and led all comers with seven clearances. They are not enormous numbers, but in a strange game they were crucial to North winning." - Mark Robinson (Herald Sun)
Higgins has earned plenty of plaudits in recent years, and his superb start to the season didn't go unnoticed.
"Shaun Higgins is all class. North has some great inside players, and he gives them great outside balance." - Rory Sloane (Game Day)
"He could go back-to-back-to-back in North's best and fairest. They recruited him for that silky-smooth stuff, and he's doing that." - Hamish McLachlan (Game Day)
The man himself was relieved to have gotten a first win for the season, and was happy to have put a more consistent performance together.
"We've been under the pump, and it's been a tough start. We've felt that we have played some OK footy in the past two weeks, leading both games, so it was good to come out on top tonight.
"We're confident in the way we go about it. We built a brand last year and we saw that in the second-half tonight. We wanted to control it a bit more in the second-half. We wanted to make sure we got inside 50 and put the pressure on Adelaide." - Higgins (ABC Grandstand)
And Higgins' focus has now moved to the Good Friday Kick for the Kids, which is shaping up as a blockbuster.
"Next week is a massive challenge, it's always a tough clash against the Bombers and they are really up and going now. It's a massive game and a privilege to be a part of it, and hopefully we can raise plenty of money and put on a good show." - Higgins (ABC Grandstand)