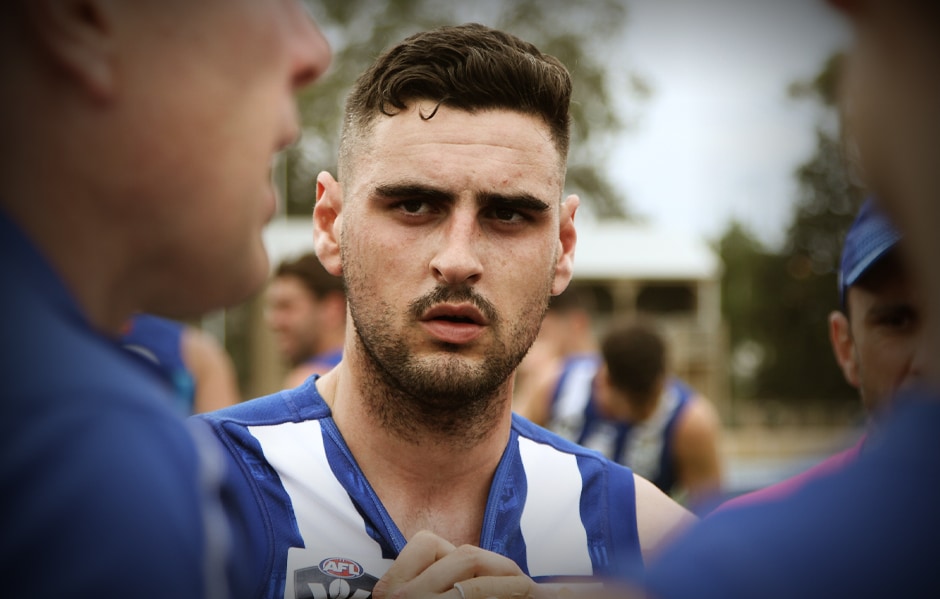 It was a tough day for North Melbourne's VFL side, falling to 2017 VFL Premiers Port Melbourne on Saturday afternoon.
Despite the result, there were shining lights, with a handful of AFL-listed players pushing their case for senior selection.
North Media spoke with development coach Gavin Brown about the stand-outs.
Paul Ahern | 32 disposals
"He was very good and had plenty of the ball. His decision making and skill execution with the footy by hand was great.
"It was good to see him come forward defend and to win the ball. His body work was also exceptional."
Jy Simpkin | 33 disposals | 6 tackles | 1 goal
"Jy was a stand-out in the game on the weekend. He played in the middle and his hands were elite.
"His defensive pressure was outstanding, his attack and ability to drive his legs and create options for us was very good. An outstanding performance."
Curtis Taylor | 13 disposals | 4 marks | 2 goals
"He's such a natural footballer. It was good to see him mark the footy, and went for a nice grab as well - he didn't quite pull it off but showed promise.
"There's an x-factor about him and he's so elusive as well. He moved around the ground well and covered where he could too. He moved forward and looked dangerous."
Tom Campbell | 26 disposals | 7 marks | 25 hit-outs
"'Tommy' got a lot of the ball and marked the ball really well. He went up forward and kicked a goal as well, but also helped down back.
"His follow-up work was really good. It was a really solid performance, especially in the ruck."
Dan Robinson (VFL) | 20 disposals | 4 marks
"Dan played off the wing this week, given we had a lot of AFL boys come back this week in the midfield.
"He held his position really well and gave us structure around the footy. He won plenty of the ball and drove us forward."
Brendan Whitecross (VFL) | 19 disposals | 5 marks | 2 tackles
"He was fantastic. His job here is to play for us, and to coach as well. When you watch him play, you can see he's an on-ground coach by both deed and title.
"You can almost hear him from the coaches box, that's why we've got him playing down back. He was going to be a forward, but given our inexperienced backline, he's there to give us leadership and guidance."


Individual performances:
Bailey Scott | 18 disposals | 2 marks | 3 tackles
Joel Crocker | 13 disposals | 5 marks
Kyron Hayden | 17 disposals | 5 tackles | 4 marks
Red Og Murphy | 7 disposals | 1 tackle
Taylor Garner | 10 disposals | 5 tackles | 1 mark
Tristan Xerri | 11 disposals | 3 marks | 2 goals
Alex Morgan (VFL-listed) | 13 disposals | 3 marks
Chris Jansen (VFL-listed) | 19 disposals | 4 marks | 5 tackles
Liam McVeigh (VFL-listed) | 5 disposals | 2 tackles
Louis Cunningham (VFL-listed) | 14 disposals | 2 marks
Matt Northe (VFL-listed) | 14 disposals | 1 goal
Michael Tang (VFL-listed) | 9 disposals | 2 tackles
Nash Holmes (VFL-listed) | 25 disposals | 3 tackles | 1 goal
Rhys Mutch (VFL-listed) | 11 disposals | 1 tackle
Ryan Morrison (VFL-listed) | 10 disposals | 1 tackle
Sam Parsons (VFL-listed) | 8 disposals | 3 tackles
Ty Leonardis (VFL-listed) | 11 disposals | 2 marks