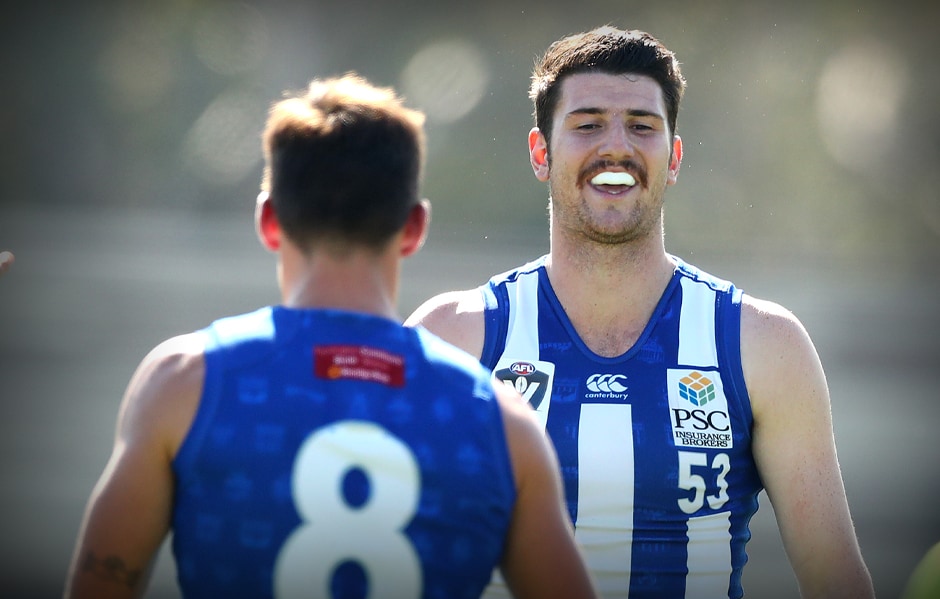 North Melbourne's VFL side will look to register its first win of 2019, hosting Geelong on Sunday afternoon at Avalon Airport Oval.

The Roos will play in Werribee for one final time, before games begin at the club's spiritual home at Arden Street in Round 9.

Having secured premiership points for the first time this season in Round 3, the Cats could close the distance on a top eight spot with a second win in three weeks.
North Melbourne v Geelong
Sunday, May 12 - 2:30pm
Avalon Airport Oval
Squad
North Melbourne
B: 62. F. Cameron, 24. S. Durdin, 36. J. Crocker
HB: 43. A. Hall, 56. B. Whitecross, 19. S. Wright
C: 18. S. Atley, 37. K. Hayden, 9. L. Davies – Uniacke
HF: 31. C. Taylor, 38. T. Xerri, 28. K. Turner
F: 8. N. Hrovat, 20. N. Larkey, 35. D. Watson
R: 42. T. Campbell, 59. N. Holmes, 15. P. Ahern
Int: 58. J. Harper, 51. T. Hotchin, 61. C. Jansen, 53. T. Leonardis, 54. J. McIvor-Clark, 73. L. Mirams, 68. Q. Montanaro, 79. R. Morrison, 71. M. Northe, 72. D. Robinson, 80. M. Tang
23P: 75. C. Hodges
Geelong
B: 24. J. Bews, 25. L. Henderson, 2. Z. Tuohy
HB: 41. J. Jones, 39. Z. Guthrie, 34. J. Parsons
C: 20. O. Brownless, 19. Q. Narkle, 21. J. Kennerley
HF: 6. J. Clark, 28. D. Fort, 13. L. Fogarty
F: 37. S. Simpson, 12. W. Buzza, 9. Z. Smith
R: 45. R. Abbott, 16. S. Selwood, 18. C. Constable
Int: 50. D. Capiron, 58. A. Cincotta, 74. J. Gow, 10. B. Jarvis, 53. J. Keras, 52. J. McLachlan,
56. B. Reid, 49. N. Rokahr, 36. B. Schlensog, 55. L. Smith, 33. J. Tarca, 51. J. Tsitas
23P: 64. C. Wilson
The key players
North Melbourne

Curtis Taylor
Irrespective of result, the talented youngster continues to be listed among the best performed Roos on a near weekly basis.
Taylor's last outing, a three-goal and 15 disposal effort against the Blues, highlight just how effective he can be when given time and space in North's forward 50.
Kyron Hayden
The powerfully-built midfielder is fast becoming one of the more influential taggers in the state competition, transitioning to his new run-on role with great success.

Topping the VFL for tackles, with an average of 8.2 per game, Hayden could be tasked with handling an in-form Charlie Constable.

Geelong

Charlie Constable
The fleet-footed Cat continues to justify his label as a key prospect, tallying 24 possessions in a losing effort against the Bombers last week.
If that wasn't enough, the NAB AFL Rising Star nominee posted strong numbers in several areas, laying 12 tackles whilst operating within the Cats' engine room at the MCG.
Ryan Abbott
North's youthful defence could be challenged by the towering 27-year-old, who continues to lead the line for Geelong with great efficiency.

Despite limited opportunities against Essendon, Abbott still impacted the scoreboard, booting two goals.
What the coach said
North Melbourne - David Loader
"There were some real positives to take out of the way we played (against Northern Blues), which is great. It's unfortunate with the result, I'm more disappointed for the boys than anything else.

"They're shattered cause they thought they were in a game they really believed they could win, but it didn't pan out that way. Injuries play a big toll, especially when we can't rotate.
"We're struggling to get it done at the minute, but we're working our way through it."