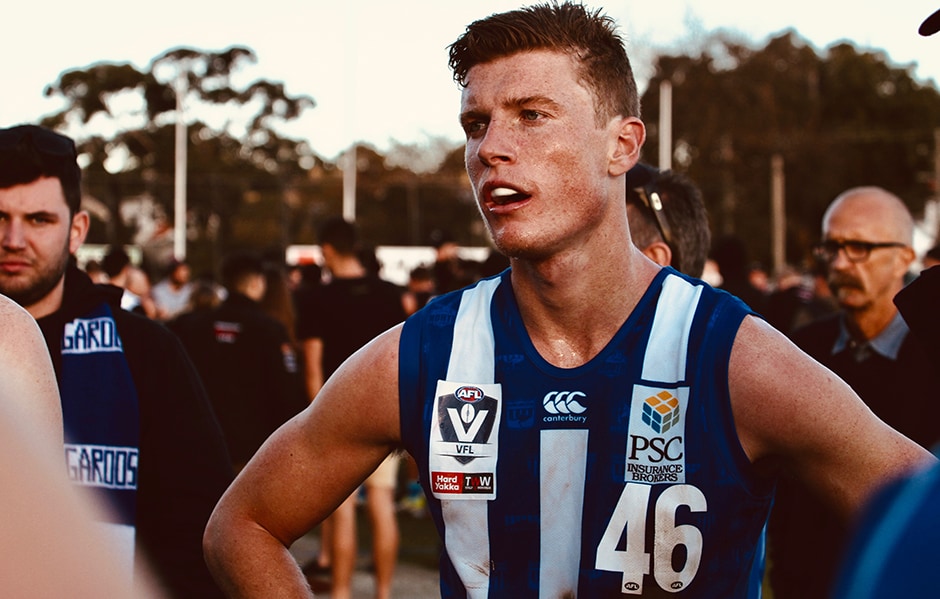 Match result
Frankston 16.14.110 def. North Melbourne 8.12.60
Player stats
AFL-listed
Bailey Scott (3 disposals - injured), Ben McKay (14 disposals, 8 marks), Curtis Taylor (17 disposals), Declan Watson (7 disposals), Joel Crocker (20 disposals), Lachie Hosie (11 disposals, 1 goal), Nathan Hrovat (16 disposals), Red Og Murphy (5 disposals), Tom Campbell (23 disposals, 21 hit-outs, 1 goal), Tom Murphy (15 disposals), Tristan Xerri (15 disposals, 18 hit-outs)
VFL-listed
Alex Morgan (16 disposals), Brendan Whitecross (16 disposals), Cameron Hodges (13 disposals), Chris Jansen (16 disposals), Dan Robinson (20 disposals), Joseph Ugle (5 disposals, 2 goals), Liam McVeigh (4 disposals), Louis Cunningham (6 disposals), Nash Holmes (20 disposals, 6 tackles), Quintin Montanaro (7 disposals), Ryan Morrison (13 disposals, 2 goals), Ty Leonardis (20 disposals)
Recap
It was a disappointing afternoon at Skybus Stadium, as North Melbourne's VFL side suffered a 50-point loss to Frankston on Sunday.
A tense opening term which produced a combined tally of three goals set the tone for the first quarter, as both sides struggled to translate forward entries into scoreboard pressure..
The game opened up significantly after the first break, with 11 goals booted in an end-to-end second term, which allowed the hosts to hold a 35-point buffer at half-time.
Facing a hostile home crowd, the Roos battled hard to produce a winning score, but were unable to convert a myriad of goal-scoring opportunities, with inaccuracy becoming the story of the day.
Despite the limited opportunities, many of North's AFL-listed talents worked hard to reduce the deficit, including rotating talls Tom Campbell and Tristan Xerri.
The pair combined for 39 hit-outs and a goal.
Tasked with the duty of limiting Frankston's dominant forward six, Ben McKay was the among the best performed players wearing the royal blue and white stripes.
The 21-year-old took a plethora of contested marks, forcing Frankston to look away from their traditional aerial avenue to goal.
Meanwhile, VFL-listed pair Joseph Ugle and Ryan Morrison were rewarded for their consistency, booting two goals apiece.
What the coach said
"Our range of performance is the most frustrating thing at the moment," VFL senior coach David Loader told North Media.
"We can't be looking backwards too far, but we beat the only unbeaten team two weeks ago and then we serve up what we did today. It wasn't really competitive, even though we had a clear plan.
"I've had a chance to talk to some of the players, they've said the same thing. It was really disappointing for us, especially with the way we played.
"It's great learning, we got served up out there and deserved everything we got. We've got to be far better than that as individuals, and as a club.
"We'll put our heads down, review the game properly and give some honest feedback so that we can move forward."
Best of AFL
Ben McKay
The key defender's reputation as an elite marker of the footy was enhanced after another imposing performance, this time against Frankston.
McKay's athleticism was on display, with several strong contested grabs in the second half, when the Dolphins were on the attack.
He pulled down 8 marks and had 14 disposals for the day.
Best of VFL
Nash Holmes
North's VFL brigade worked hard in the engine room, with Holmes putting in another workmanlike shift.
Flanked by tireless duo Chris Jansen and Dan Robinson, who provided plenty of drive and grit, Holmes was allowed to pursue the footy around stoppages, laying a game-high 6 tackles to go with 20 disposals