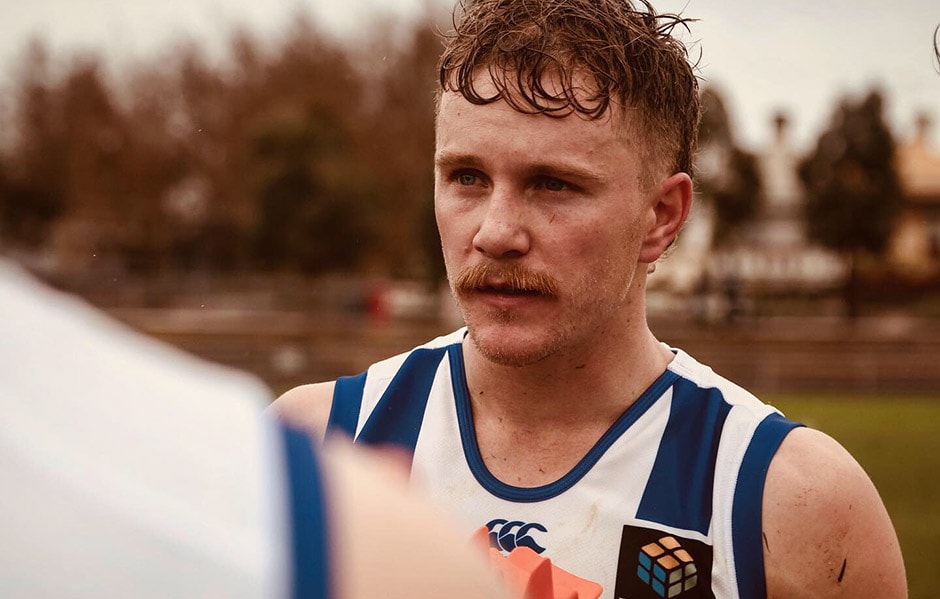 Match result
Collingwood 9.7.61 def. North Melbourne 6.6.42
Player stats
AFL-listed
Ben McKay (4 disposals), Curtis Taylor (12 disposals), Declan Watson (10 disposals), Jamie MacMillan (33 disposals), Joel Crocker (14 disposals), Lachie Hosie (6 disposals), Paul Ahern (30 disposals, 1 goal), Sam Wright (6 disposals), Taylor Garner (13 disposals, 1 goal), Tom Campbell (26 disposals, 26 hit-outs, 1 goal), Tristan Xerri (13 disposals)
VFL-listed
Alex Morgan (10 disposals), Brendan Whitecross (11 disposals), Cameron Hodges (7 disposals), Chris Jansen (18 disposals, 1 goal), Dan Robinson (11 disposals), Louis Cunningham (7 disposals), Matt Northe (6 disposals), Nash Holmes (9 disposals), Nick Rippon (32 disposals, 11 tackles, 1 goal), Rhys Mutch (7 disposals, 1 goal), Ty Leonardis (12 disposals)
Recap
North Melbourne's VFL side was left to lament its missed chances on Saturday afternoon, falling to Collingwood by 19 points in a fiercely contested meeting.
The hosts were quick to switch into gear, taking advantage of a short-lived period where rainfall wasn't a factor, booting three goals in succession inside the opening 10 minutes.
With their backs against the wall, the Roos worked hard to reduce the deficit, despite the scoreboard not reflecting their ascendency.
Having booting just two goals in as many quarters, the remainder of the game was always going to be an uphill battle for North.
A second half comeback was led by AFL-listed trio Paul Ahern, Tom Campbell and Taylor Garner, and 100-gamer Nick Rippon.
The Pies' lead was reduced to a single goal in the final term, but the home team held on.
Returning from injury, Jamie Macmillan provided a vocal presence in defence, finishing with 33 disposals. Sam Wright also made his return and got through unscathed.
What the coach said
"I think our work rate lifted a fair bit (in the second half)," VFL senior coach David Loader told North Media.
"We just controlled so many aspects of the game after half-time. I think we dominated the third quarter and we dominated around the footy. We had plenty of looks, we just couldn't score.
"In tricky conditions like we faced today, that makes it very hard to win the game. Our intensity around the footy really went up in the last 15 minutes, which really showed.
"All of a sudden we kicked three goals and we were back within reach. We probably left too much to do late. They (the Magpies) kicked three or four goals really early and that was the ball game.
"We'll live, learn and move forward."
Best of AFL
Paul Ahern
The polished midfielder is often lauded for his ability to win the footy cleanly and create opportunities for those around him.
The Round 13 showing proved to be no different for Ahern, who accumulated 30 disposals in heavy rain, before stamping an exclamation point to his performance with a goal.
"It was an outstanding effort from him," Loader said.
"Paul really was fantastic today. He was really quick and it showed today with his ball use, which was clean, even in today's conditions."
Best of VFL
Nick Rippon
It was a performance that typified the reputation of Nick Rippon.
Coming off his longest ever injury forced lay-off, the 25-year-old transitioned back into his traditional role in North's engine room, playing his 100th VFL game.
The inaugural John Law medalist booted a goal, along with his 32 touches and 11 tackles.
"Nick is an incredible player, he's truly amazing," Loader added.
"He's had 10 weeks off, comes back to train for a week and has 32 touches today. It shows that he's a phenomenal player and one that a lot of guys can learn off, especially with his approach.
"I think he's one of the best players that I've had the pleasure of working with."