Rhyce Shaw has never been the type of person to back down from any situation, no matter how challenging or tough it might be.
Ahead of his first full season as senior coach of North Melbourne, the 38-year-old is putting it all on the line.
"We are in it to win games of footy and ultimately premierships. I don't shy away from that," he said. 
"I am not here to win coach of the year. I am here to win a premiership and I am here to win multiple premierships, as every coach is. I know we have got a long way to go and I am not getting ahead of myself. If I fail in two, three years, I know I will have tried to do it the right way. That's all I can do."
Shaw believes a key to that success is changing attitudes and behaviours.
"I want us to think big. I want to give the players, the administration, the coaching staff the ability and confidence to believe in themselves and believe anything can happen and we can do this," he added.
"I have seen big jumps before, I have seen teams go from zero to high up the ladder and sustain it for 10-12 years."
Click here to view 2020 membership packages
Instilling belief also high on his agenda.
"Reading about the history of this club, they have always fought for everything. Even the inception of the club into the VFL, it took them god knows how long to even get into the competition," he told the Herald Sun.
"Through the Barassi era they starred and got some guns in and won two flags, one against my old man (Ray) in 1977, and through the Pago (Denis Pagan) era it was simple footy but brutal. Brutal footy and successful footy.
"I just think we have got to be able to believe we can be a team and club that can compete with the best."
Since taking the reins mid-way through the 2019 season, Shaw led to the club to a 7-4 win-loss record and established a brand of footy that North supporters identified with.
"Everyone knows I am pretty basic but I love making people better," Shaw explained.
"I have come from a place (in Sydney) where the standards are so high and everyone understands what is expected and knows their role and then you just go out and play it. So I am not ashamed to say it's similar to what I want to achieve here. I have seen it work.
"I am really keen for our fans, our members, for the AFL to understand when North Melbourne take the field they will play a really hard and physical game plan. Really organised and solid in defence and attack with the flair they have been given by god. That is in summary how I want it to be.
"In all honesty, I think it's a frame of mind. I have watched a lot of footy. I went to every GWS game in the finals series so I was pretty lucky. I got some cracking games. 
"The way they go about it, Richmond, Brisbane this year, they played finals footy and I want to play finals footy as soon as I can."
After watching his brother Heath play in the finals for GWS, Shaw saw some attractive footy. One game in particular stood out, when the Giants beat up on the Dogs.
"Oh, that was an unbelievable experience," he recalled.
"I was sitting with my dad and two boys (Freddie, 4, and Louis, 2) and it was just the way they attacked. It was relentless. That's the type of footy we want to play and it's sustainable if you want to do it. Sometimes it's about going out and bashing the opposition, but we do have plans in place to make sure it's sustainable."
Shaw's message has had an immediate cut-through with the old and young. Veteran Shaun Higgins says Shaw's drive, attention to detail and personal touch has invigorated the club and validated his decision to stay at Arden St throughout the recent trade period.
"We feel like we have got a list that is more than capable of being competitive week in and week out," Higgins commented.
"The dynamic and profile of the group suggests we should have those goals Rhyce is expecting of us.
"I knew straight away (I had made the right decision to stay) because there was a gut feeling when we could finally got the deal done I had made the right call. It's as good a notification or validation as any that I had made the decision and was able to get it done. I am always optimistic of what we can do and nothing has changed with that. If anything it's grown more and more."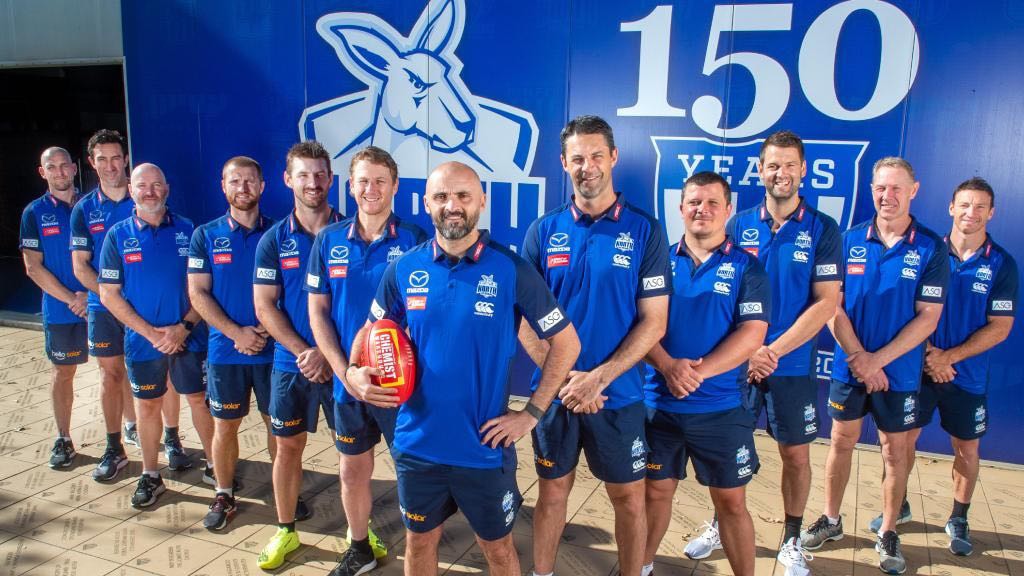 The North Melbourne coaching team. Photo: Jay Town, Herald Sun.