After 12 wins in 1990 and 1991 respectively, North Melbourne was hoping for a successful 1992 season.

A round one bye followed by a 66-point win against Richmond in round two courtesy of a six-goal haul from John Longmire had the Roos in a strong position early, but it wasn't to be their year.

By round 13, Wayne Schimmelbusch's team had won just three games and was labouring in 13th position following five straight defeats.

With Wayne Carey and John Longmire sharing 12 goals in round 24, there was reason for optimism though.

Could 1993 be the Roos' year?

Following the '92 season, Schimmelbusch made wholesale changes in a bid to revitalise North's list.

But after a 147-point loss in a pre-season game against Adelaide, the biggest change was still to come, as The North Story detailed.

(click to enlarge)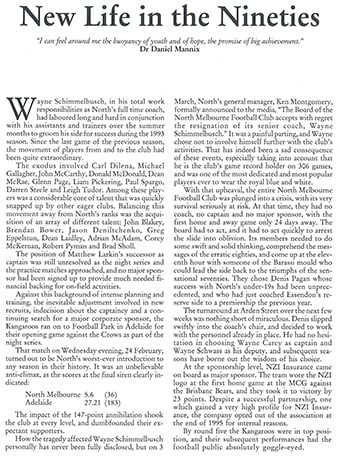 Denis Pagan took the reins and North made quite a remarkable turnaround between the pre-season competition and home and away campaign barely a month later.

On the back of some brilliance of newly appointed captain Wayne Carey and vice-captain Wayne Schwass, the latter polling Brownlow votes in the first five games, North was on top of the ladder by round six.

A 124-point win against the Swans saw Carey overshadowed by Adrian McAdam (10 goals) and John Longmire (nine goals) as the Roos notched their highest ever score, 35.19 (229).

There were hiccups along the way, including consecutive losses in rounds 13 and 14 as well as rounds 17 and 18, but North went into the final round on top of the table.

Unfortunately, it was a 10-goal second term by Footscray in the final round that proved costly for Pagan's team. The Roos lost by 10 points, effectively costing themselves a second chance in the finals.

Injuries took their toll, too. By the time North faced West Coast in the elimination final at Waverley Park, their lack of manpower was evident, as detailed by Pagan in the post-season edition of North News.

(click to enlarge)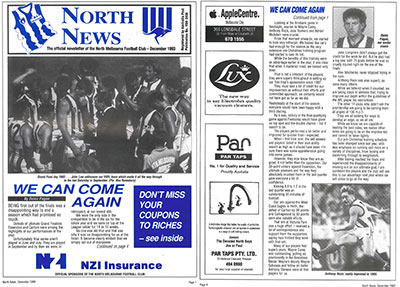 Pagan called for North to come again, and that they did.

The season started with wins over St Kilda and Footscray, and in between a huge 127-point victory against Hawthorn, with Carey booting seven goals and McAdam and Longmire chiming in with five each.

The Roos' fortunes were mixed for much of the season though; there were four runs of three wins in a row coupled with two runs of three consecutive losses.

Nevertheless, a 13-9 win-loss record was good enough for third spot on the table in the new eight-team finals system.

North played Hawthorn in a thriller at Waverley Park, with the brilliance of Carey and Anthony Stevens shining through when it mattered most - on this ocassion in extra-time.

Tied at the final siren, the teams played two five-minute periods to decide the winner. The Roos kicked 3.5 to nil in a dominant display late.

But again they fell short of a Grand Final, a late Gary Ablett mark in the preliminary final breaking the hearts of the fans, players and coach.
(click to enlarge)
North Melbourne simply had to advance on its efforts of the previous two seasons in 1995.

The likes of Glenn Freeborn, Matthew Armstrong and Robert Scott were among those brought into the club, but a serious knee injury to Darren Crocker proved an early blow.

Nevertheless, the Roos boasted early success, winning the Ansett Cup series with a convincing victory over Adelaide, the side it had so famously been thrashed by in the pre-season just two years earlier. Mick Martyn won the Michael Tuck Medal.

It was an exciting time at Arden Street.

(click to enlarge)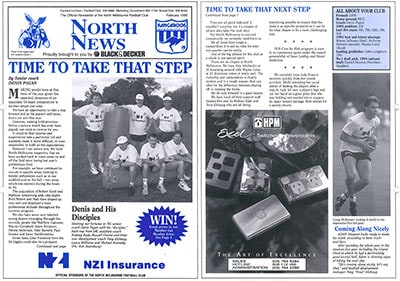 Following their win in the night series, North was expected to go on to bigger and better things.

Tight wins 'at the death' in rounds one and two were barely ideal, before it lost three games in a row to sit precariously in 12th place.

The likes of John Blakey, Mark Roberts and Schwass helped the Roos bounce back with three consecutive wins, but a 61-point loss to Geelong on a Friday night was a reality check.

Nevertheless, North won the next five and by round 14 was in fourth place on the table.

There were ups and downs in the remaining rounds but a 103-point win, albeit against a lowly Fitzroy side, saw the Roos go into September with plenty of confidence. Thirteen players shared in 30 goals as North eclipsed the 200-point barrier, 30.24 (204).

Despite the absence of Stevens with a knee injury leading into the finals, North held its own against the more fancied Richmond side in the qualifying final.

After an even affair for much of the night, Pagan's men booted six straight goals in the last quarter to win by 30 points.

A home semi final against West Coast was next and Corey McKernan's dominance in the ruck proved the difference in the first half.

Glenn Archer booted four goals and McKernan and Longmire three apiece as North won by 58 points thanks to a brutal second half display.

But that was the end of the joy for 1995, which was no shame given the Roos were going up against a powerhouse at the time in Carlton. The Blues had gone through the season with just two losses.

Even so, North battled bravely to be within 21 points at the final change, before David Parkin's team ran away with the game in the final quarter. The final margin was 62 points.

After another impressive year, the signs were still bright for North heading into 1996.

(click to enlarge)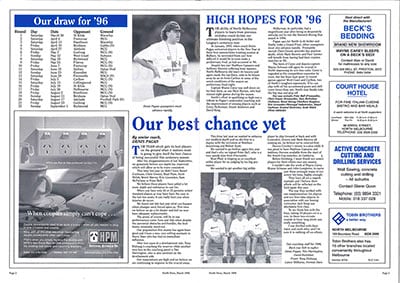 North bowed out in the semi final of the Ansett Australia Cup this time around, but their prime objective was later in the year.

Pagan had a blueprint for success: "We prepared our mission statement and to a man they (the players) responded."

Unfortunately, the Roos were without Longmire due to a knee injury, while new recruit Chris Groom was similarly ruled out.

Despite a win in round one, Schwass was added to the injury list with a fractured arm.

Nevertheless, North had its most consistent season in Pagan's tenure to date. Their objective of not losing back-to-back games was achieved, and they held top spot for much of the season.

There were big wins over Footscray (131 points) and Fitzroy (105 points) as well as the club's first ever win at Football Park over the Crows.

Talks of a potential merger with the Lions were also prevalent at the time, making for an interesting time at Arden Street to say the least. Of course, thankfully, the merger never prevailed.

Such was Pagan's desire to show the players the significance of their chance for success, he took them out on to the darkness of the MCG after they'd trained indoors at the venue, before showing off the 1975 premiership cup to his players. He told each of his players to hold the trophy aloft and to get a feel for it.

North's biggest competitor going into the finals looked to be the Sydney Swans, a side that had finished on top of the ladder and claimed a 79-point win against Pagan's men during the year, thanks to a 10-goal haul from Tony Lockett.

Brett Allison's seven goals inspired North to a comprehensive win in the qualifying final against Geelong. Then came Brisbane in the preliminary final, a side it had lost to twice in the regular season.

But the home and away season losses clearly didn't impact the Roos' confidence. They kicked 8.3 in the first quarter alone, with Carey producing a typical captain's game.

In a dominant display, North eventually won by 38 points to book a place in its first Grand Final since 1978.

It just so happened that it would be Brisbane's final match as the Bears on that day.

For North, the rest is history.

Pagan shared his thoughts on a remarkable year in North News.

(click to enlarge)