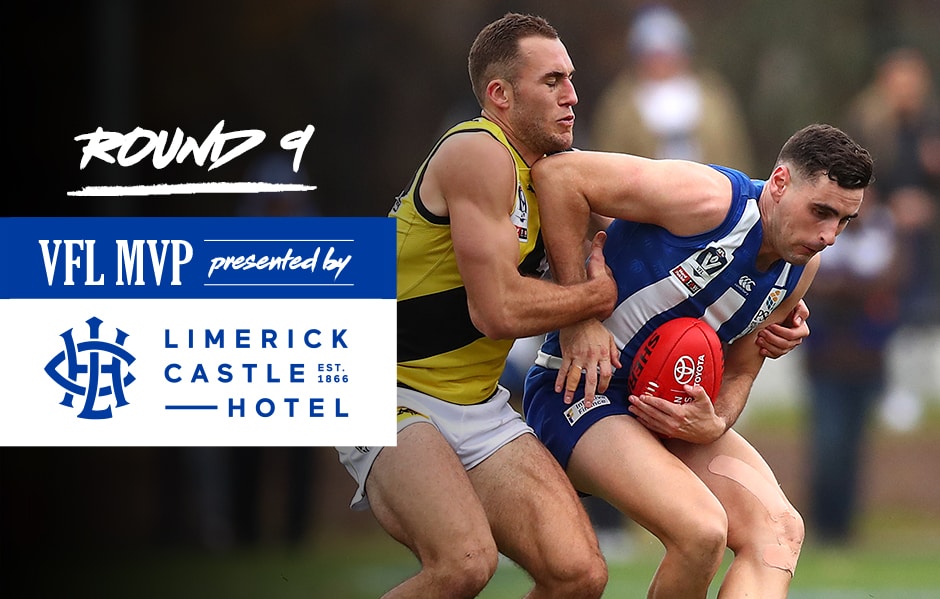 Each week, the best VFL player will be crowned MVP – Presented by the Limerick Castle; a country-style pub located in the heart of North Melbourne.
Round 9: Paul Ahern
Paul Ahern put in a typically silky performance in the midfield on Saturday afternoon, as North Melbourne defeated Richmond at Arden St.
The number 15's decision making and ball-use stood out, with the on-baller finishing with 27 disposals and six tackles.
Ruckman Tom Campbell with the perfect view of an impressive performance from his teammate, while having a big impact himself.
"Paul was outstanding today. He showed his class and his clean disposal and ability to win clearances for us all day was fantastic," Campbell told North Media.
17 of Ahern's 27 disposals were by foot, as he provided North's forward-line with some sensational service.
"He was super. He was in and under all day and he gave us forwards some silver service," youngster Lachie Hosie said.
"He went a long way to why we won today."
It wasn't just Ahern's teammates that gave him praise.
"He's a really clever player," VFL coach David Loader said.
"When he's on, he is clearly AFL quality.
"He was really important to us today with his ability to make super-quick decisions and put Richmond on the back foot."
"He had a really complete game."
The full VFL Report Card will be posted on Monday.