The sporting world has reacted overwhelmingly to a recent video of Majak Daw running for the first time, since his incident prior to Christmas.
Geelong captain Joel Selwood described the moment as "awesome" and spoke to Jack Ziebell about it at the captain's day at the MCG.
"I did see it," Selwood said.
"Even speaking to Jack Ziebell about it today, I said to him that it does so much for your footy club.
"And he said we have never been in a position like that where we have all felt so happy for someone.
"I think that was shown around the football world, which was important."
Max Gawn said it was the "Best thing I have seen".
"I am a similar age to Majak and we played a bit of junior footy against each other and I felt like I had to reach out and show my support," Gawn said.
"I really like what clubs can bring and the sense of belonging. I know he is getting a lot of support but it was a really magical thing that clubs can do."
"So something pretty amazing happened today ... I'm so thankful for all the support that's got me to this stage" - @majakdaw. #North150 pic.twitter.com/RpEQjLaTuI

— North Melbourne (@NMFCOfficial) March 14, 2019
Ziebell said the occasion wasn't planned, but when the players heard Daw would be stepping onto a treadmill for the first time in his recovery, they rushed in to support him.
"We were there. The whole list was there and it's just awesome to see Maj taking steps in his recovery," Ziebell told The Herald Sun.
"It put a smile on everyone's faces and I am sure it did for everyone in the league as well.
"I won't put words in his mouth but I am sure he is really appreciative of the support.
"He is going really well at the moment and we can only be there for him and help him when we can."
Carlton captain Patrick Cripps described Daw's progress as "good to see".
"He looks like he's in a good spot and you never want to see people struggling," Cripps said.
"It shows if people are struggling they can get out and talk. The AFL is a stressful environment and no one has a clean run through their whole career.
"I think men in general try to bottle things up and think they can do it themselves.
"But it's amazing if you do get some professional advice, they can change the way you think and put everything in perspective.
"It's really been a big shift in the AFL industry in the last few years and it's for the better."
GWS co-captain Phil Davis said Daw's situation had touched the football world.
"I have had a bit to do with Majak, and what a guy," Davis said.
"Salt of the earth, always smiling. That's the scary thing because behind all that he's had some troubles and it's sad and worrying.
"But his road to recovery and the support he has received, it has galvanised everyone.
"You hear about a broken hip and you think he might never run again.
"Those 30 or 40 blokes getting around him and his excitement … it was a special moment.
"As much as guys do amazing things on the footy field, that was as good as anything I have ever seen."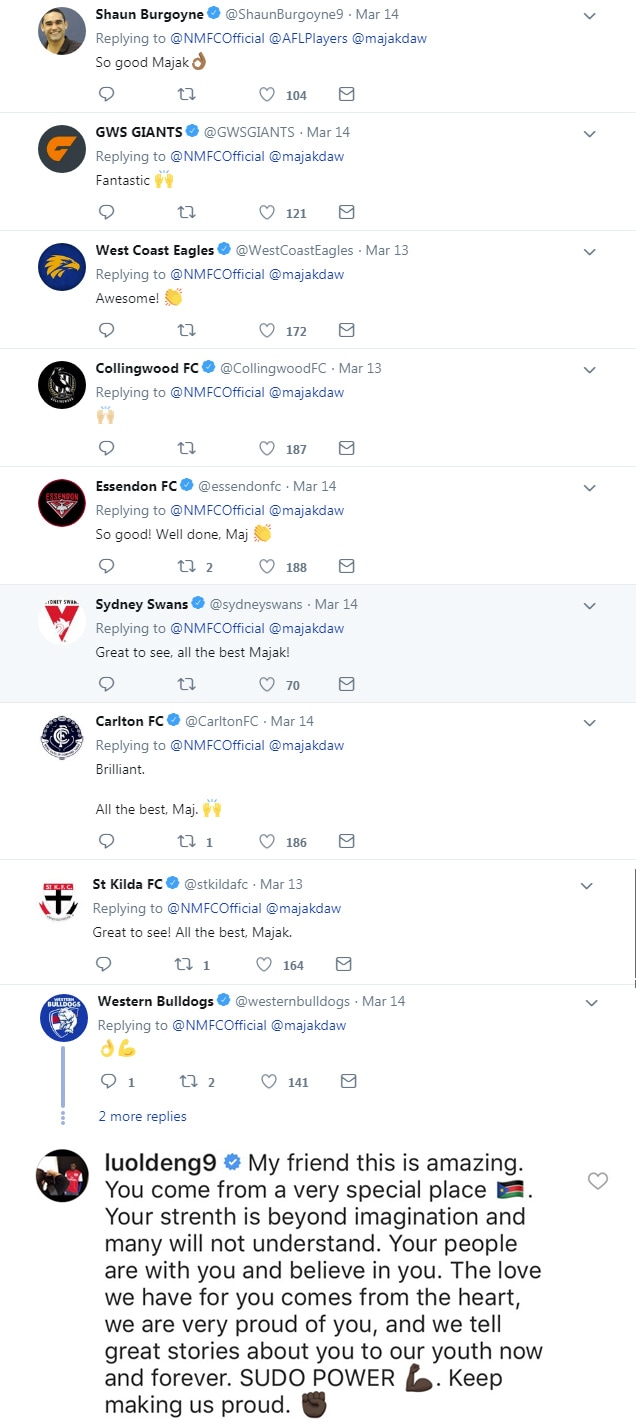 If you or someone you know is in crisis or needs support, call Lifeline on 13 11 14 or BeyondBlue on 1300 224 636. If it is an emergency, call 000.