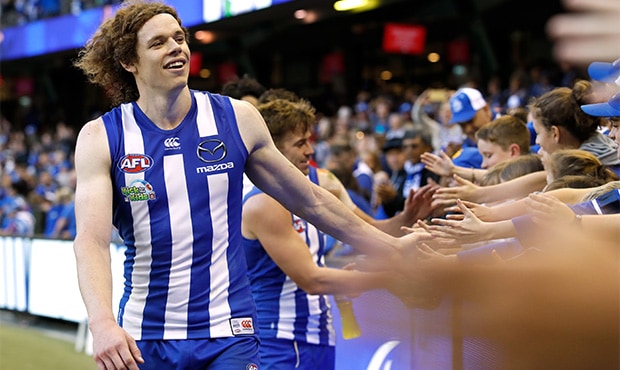 The football world still underrates North Melbourne spearhead Ben Brown despite the fact he is one of the AFL's best power forwards, his coach Brad Scott says.
And they underestimate him at their peril.
After the two-metre key forward bagged six goals to pilot the Kangaroos to a 52-point boilover victory against St Kilda at Etihad Stadium on Good Friday, Scott was asked whether Brown was underrated externally.
"Yeah, I think he is, because you probably look at the players his age who are emerging in the competition and they're regarded as potential superstars, whereas 'Browny' is pretty close to being one of the dominant key forwards in the competition already," Scott said.
"Last year we were concerned about him getting double-teamed and copping the opposition's best defender every week, and that's happened again, and he keeps rising to the occasion."
Brown, 25, has been the Roos' leading goalkicker for the past two seasons with a personal-best 63 last year when also he finished third in the club champion award. The big Tasmanian now has 160 goals from 79 games.
On Friday, if Brown wasn't the best player afield then he was certainly the most influential, and the most efficient – he tallied 6.1 from eight kicks and was a standout in a game marred by inaccuracy.
At one point he had five of his team's seven goals, when the Saints had mustered only four majors themselves.
Brown entered the contest after producing the worst round one return of his career – just four possessions, markless and scoreless in the loss to Gold Coast in the big wet in Cairns.
"I tried not to think about it too much because most people would say (it's) not tall forwards' weather," Brown said in the winners' rooms.
"So I really tried to relish the opportunity I got today to make up for the game I had last week.
By half-time, the wayward scores were level and Brown had again barely troubled the statisticians, having just two kicks for one goal.
"(At half-time) 'Scotty' made sure that he said to us, 'There can be pressure build up after everyone's missed a few goals in a row and it's important that you relish the opportunity in front of goal and take it on yourself to kick truly'," he said.
And that's exactly what he did in nailing with five second-half goals, including two in the opening six minutes of the third term to set the Roos alight.
His biggest moment, and perhaps the biggest in the game, was his final goal with a long bomb from outside 50 in the last quarter to give North an unassailable 29-point lead.
"There were a few (teammates) running past me wanting the handball-receive and I decided that I'd done a couple during the week (at training) and felt pretty confident from that distance," he explained.
"I always like to back myself in, and I've been told at times I need to take more responsibility in front of goal as one of our main key forwards.
"I decided to take it on myself and then, for me after that it's all about routine. It doesn't matter about the situation of the game or the angle."
Despite achieving just his fourth goal haul of at least six, Brown wasn't entirely happy with his performance.
"Definitely things to improve on," he said.
"To half-time I hadn't seen a lot of it and Nathan Brown, for the majority, played me really well. He's a really tough, one-on-one defender.
"So I'll go back and look over the game and see it as a bit of a learning game.
"I got a couple of balls in the goalsquare out the back, too, so maybe my six goals is not quite as good as what it reads on the scoresheet.
"I'll definitely try to learn from this one, for sure."
Brown has benefited enormously from working in tandem with veteran Jarrad Waite, who was also terrific against St Kilda.
Scott said the Roos had strategically retained Waite and defender Scott Thompson to assist in the development of their young key forwards and backs.
Brown is glad they did.
"(Waite) is an outstanding player (and) a really good mentor for me," he said.
"With Drewie (Petrie) leaving a couple of years ago, 'Waitey' has picked up the slack there. Just an old head who knows how the game's played.
"His marking power – when you've got a guy who can do that, it makes life so much easier for me as a fellow key forward."