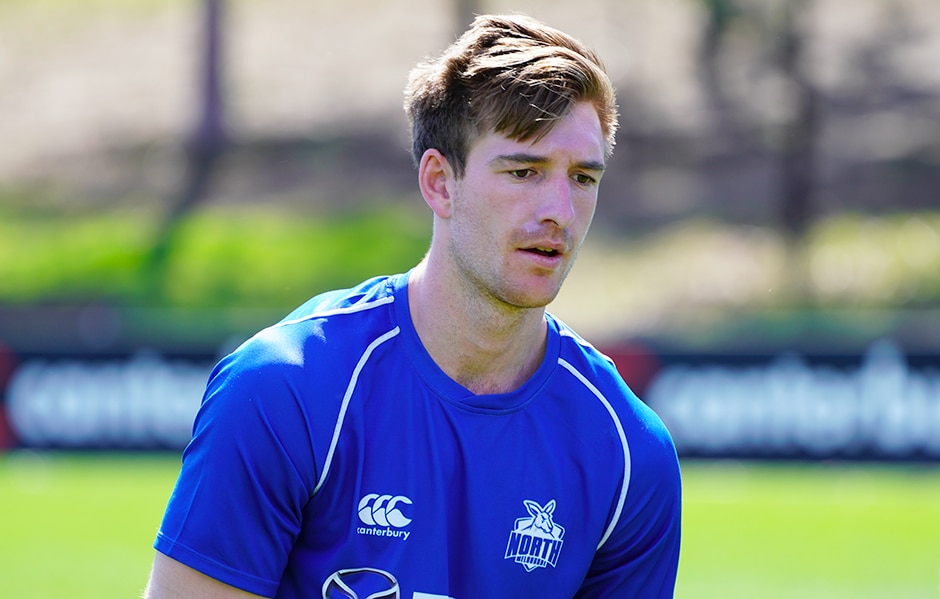 After a turbulent 2018 season, Sam Durdin isn't letting a broken tibia get in the way of his goal of establishing himself as an AFL regular.
"VFL is good fun and good footy, but I'm on an AFL list and my goal is to play as many AFL games as I can," Durdin told North Media.
Durdin was one of the stand-out performers in North Melbourne's inaugural VFL season, before suffering his season-ending injury.
"I was pretty happy with my consistency in the VFL," he said.
"It was great to be a leader in a young side, and lead the back six with Ben McKay.
Durdin's form earned him a mid-year call-up to the AFL team, when he played in the Round 10 win over Fremantle at Optus Stadium.
A head knock in that fixture meant Durdin was forced to return via the VFL, but a broken tibia suffered in a clash against Richmond dashed Durdin's hopes of an AFL recall.
The key-defender said that a strong support network helped him through the initial stages of his injury.
"I was bedridden for about eight weeks after breaking my tibia, and in a fair bit of pain for a while.
"I was lucky enough to have a half-decent housemate in Kayne Turner who looked after me, and my mum flew over which was good."
Durdin was part of a group of young players that self-funded a trip to Utah to get a head start on their pre-season.
"When we got over there I had just gotten out of my moon boot, so I didn't do as much as the other boys, and my training revolved a lot around walking," he said.
"Trying to walk again was my challenge, which sounds like nothing, but it was a big deal to me.
"There was plenty of weights and injury prevention exercises, and being exposed to the altitude was really good for the fitness."
Four months on from the initial injury, Durdin has returned to training, albeit in a very limited form.
"I finally got to feel what it was like to run again yesterday on the AlterG, which was really good for me mentally," he said.
"Hopefully I can progress from the AlterG onto the ground soon.
"I'm hoping to be back into training with the rest of the boys by the start of January."
With Round 1 firmly in his sights, Durdin is excited about the competition for places in the best 22 next year, something he thinks will drive the team on.
"It's going to be really tough competition for a spot again this year, which is not a bad thing at all," he added.
"We have plenty of experience down back with Taz (Robbie Tarrant) and Scott Thompson, as well as Maj (Majak Daw), who had a brilliant year.
"Myself and Benny (Ben McKay) are learning off them, and we will be fighting each other for a spot, but that's good for the team."
The views in this article are those of the author and not necessarily those of the AFL or its clubs