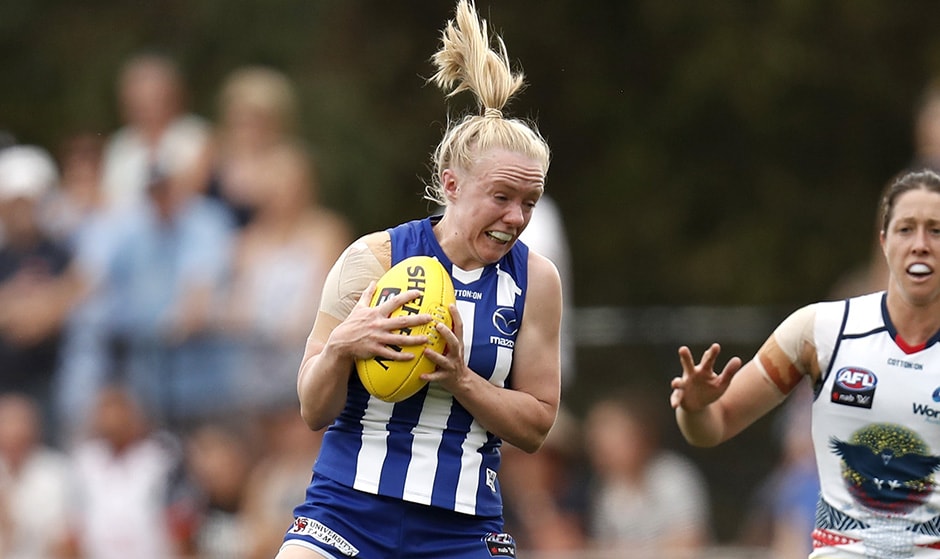 North Melbourne has reinforced its commitment to Tasmania, re-signing three players from the southern-most-state for the 2020 AFLW season.
The Kangaroos today announced Emma Humphries, and Chloe and Libby Haines have inked new deals to remain in the royal blue and white stripes.
"In this trio we can see the future of the club and we are truly excited about what lies ahead for these girls," head coach Scott Gowans said.
"It's extremely important to us to continue to maintain, grow and develop talent in Tasmania and Emma, Chloe and Libby are helping to lead the way in every sense.
"The sky is the limit for not only them, but for young female AFLW hopefuls in Tasmania."
A talented and speedy winger, Humphries played five games in North's inaugural season after crossing to the Kangaroos from Melbourne. Humphries was initially selected with pick 57 in the 2016 Draft and has played a total of 15 games.
Chloe Haines was taken with pick 53 in the 2017 Draft and made her debut in Round 3, while Libby, pick 56, is yet to play a game.
Meanwhile Georgia Nanscawen, Maddy Smith and Jessie Williams have been advised their contracts will not be renewed.
"We wish these three players all the best for the future," Gowans added.
"Each one has tremendous attributes and represented us in the most professional manner. We are truly sad to have had to let them go."
The views in this article are those of the author and not necessarily those of the AFL or its clubs