The views in this article are those of the author and not necessarily those of the AFL or its clubs.
Lever's Dee Day: let the games begin
Demons fans shouldn't celebrate just yet, but Jake Lever is one step closer to swapping his Crows guernsey for the red and blue.
On Tuesday afternoon Lever formally requested a trade, and later told Channel Seven his preferred new club is Melbourne.
What happens next
The Demons are believed to have offered the defender a four-year deal worth at least $3.2 million.
In acknowledging Lever's request, a Crows statement mentioned his wish to join a Victorian club, saying they were "extremely disappointed" and want full value for Lever.
So Adelaide's statement can be read: 'Demons - if you want Lever, you'd better pay up or another Victorian club, possibly Collingwood, will'.
How the deal gets done
The Crows will ask for Melbourne's first-round pick, No.10 overall, and their 2018 first-round selection, on the assumption this is likely to fall later than this year's pick.
Adelaide, however, is not wedded to the idea of two first-round picks. In the unlikely event Melbourne was able to access a top-two pick, that on its own would make the trade.
Equally, if the Demons were able to trade earlier into the first round, the Crows would likely compromise on the secondary piece of the deal.
One useful precedent: Adam Treloar's move to Collingwood at the end of 2015. The Pies gave up two No.7 picks (their 2015 and 2016 first-round picks) but got back No.28 from Greater Western Sydney, the net value of which equated to pick No.2 under the AFL draft points system.
As keen as the Demons are to land Lever, we expect them to haggle. At this stage, they are reportedly offering picks No.10 and No.27. So strap yourselves in, this could be a long one.
Why Motlop is not necessarily a pawn in the Ablett deal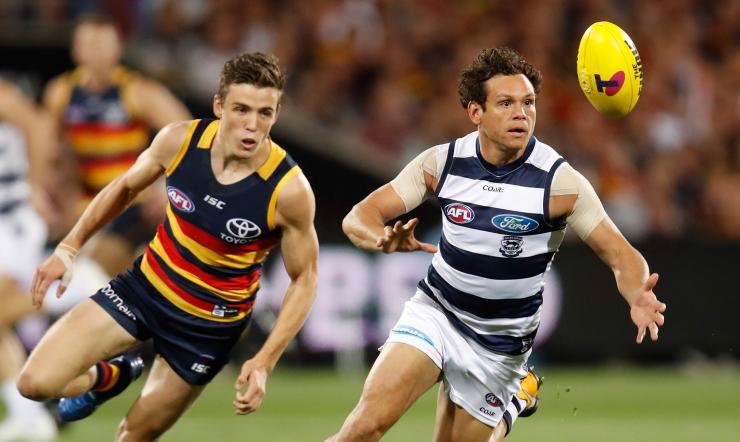 Steven Motlop's tour of Metricon Stadium on Tuesday was soon linked to Geelong's bid to bring Gary Ablett home from Gold Coast.
However AFL.com.au understands Motlop's visit with the Suns was not initiated by the Cats, and came about independently of the Ablett talks.
Port Adelaide are also in the mix for the Cats speedster, so if the Suns decide to pursue him they will face competition.
What happens next?
Motlop is out of contract and can seek to join Gold Coast as a restricted free agent
If the Cats chose not to match the Suns' offer, Motlop would become a Gold Coast player.
Any deal between the Cats and the Suns for Ablett would have to stand up as a fair deal independent of Motlop's move. The only return Geelong could extract from Motlop in this scenario is a free agency compensation pick.
One ploy the Cats might try: match the Suns' offer in the hope of forcing a trade for Motlop.
This would allow them to offer Motlop as part of a trade for Ablett.
But the Suns, of course, could refuse that offer.
In that case – barring Motlop nominating for the draft – the Cats would be stuck with his salary on their books. And this would impact their ability to bring in trade targets such as Ablett and, more likely, Western Bulldogs forward Jake Stringer.
Lions dangle pick No.1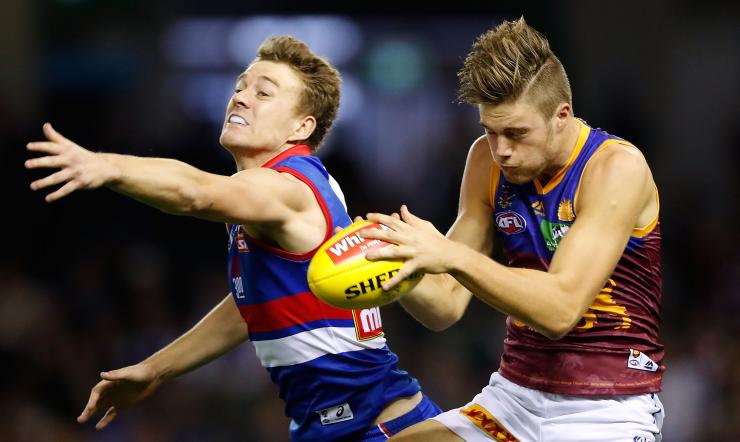 In what is becoming something of a trade period tradition, No.1 draft pick custodians, the Brisbane Lions, say the coveted selection is up for grabs at the right price.
"For us, it's never say never," CEO Greg Swann told NAB AFL Trade Radio on Tuesday.
"We are very happy to keep pick one, but if a really good deal came along you'd have to look at it."
Keep in mind
Countless clubs have suggested they're prepared to trade the No.1 pick, including Essendon last year, St Kilda in 2014 and Greater Western Sydney in 2013, but it almost never happens.
The last No.1 pick to swap hands was in 2001, when Freo packaged it with picks No.20 and No.36 to nab Trent Croad and Luke McPharlin from Hawthorn. The Hawks selected Luke Hodge at No.1, Daniel Elstone at No.20 and Sam Mitchell at No.36.
Despite McPharlin's stellar career with Freo, the Dockers clearly lost this deal, no doubt dissuading other clubs from following their lead.
Meanwhile: 2015's No.2 pick Josh Schache has no plans to leave the Lions, according to his manager Dave Trotter.
Blues' midfield depth drive gets off to a good start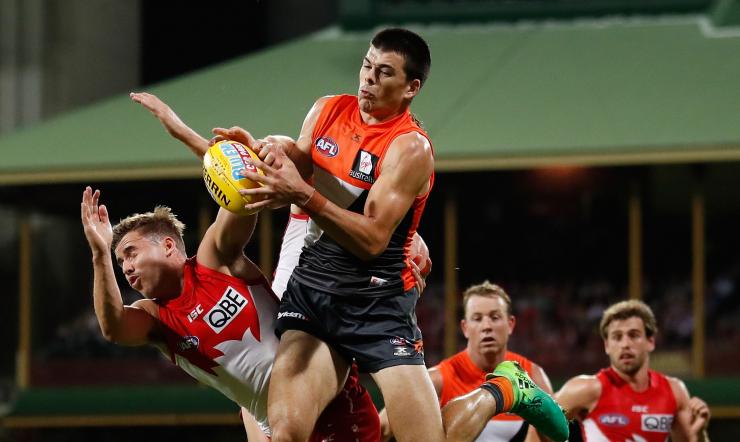 The Blues are hell-bent on bolstering its on-ball division and winning Matthew Kennedy's commitment is only the first step in what they hope will be a bountiful player exchange period.
On Tuesday morning we revealed exclusively that Kennedy has nominated Carlton as his club of choice.
Fellow Giant Devon Smith and Brisbane Lions free agent Tom Rockliff are also on Stephen Silvagni's hit list, while the Blues list manager could yet have other opposition midfielders in his sights.
What Kennedy will bring to Carlton
The former Giants academy player was taken at pick No.13 in the 2015 NAB AFL Draft. A natural ball-winner, he is powerful, has good endurance and, at 188cm, is a strong overhead mark
Kennedy struggled for midfield time in his 16 AFL games this season – hardly surprising given GWS's production line of star midfielders – but was a prolific ball-winner in the NEAFL
He served notice of his potential with 28 disposals and 11 contested possessions against West Coast in round 10, while he averaged 17.2 possessions a game in 2017 and was ranked ninth at the Giants for average contested possessions (7.6 a game), clearances (2.7) and tackles (4.6).
One complication: the Blues might need to move Bryce Gibbs to get the deal done.
Rival list managers believe Kennedy, 20, is worth a second-round pick, but the Blues traded their second-round selection to Geelong last year as part of the Zach Tuohy deal.
The Blues' first pick, No.3, won't be on the trade table and their next pick, No.38, won't satisfy the Giants.
However, if Gibbs again requests a trade to Adelaide, Carlton could relent second time around and trade the contracted midfielder if it gives them a pick or picks to acquire Kennedy. The trade could happen as part of a package deal with Smith, if he also nominates the Blues as his preferred club.
• Rival clubs believe Essendon has firmed as Jake Stringer's likely new home next season. The contracted Bulldog has met with the Bombers and Geelong, while his manager, Paul Connors, insists talks with those clubs have not stalled following explosive reports about Stringer's private life.
• Jack Watts says he still loves Melbourne and is still getting his head around the possibility he'll be traded. The forward is confident his best football is ahead of him.
• The Brisbane Lions expect restricted free agent Tom Rockliff to inform them of his plans by the end of the week after meeting with Carlton and Port Adelaide.
• St Kilda midfielder David Armitage will remain a Saint in 2018 after his manager, Shane Casley, dismissed speculation he could join either Gold Coast or the Brisbane Lions.
• Saints forward Paddy McCartin won't be going anywhere either, according to his manager Scott Lucas.
• Geelong half-forward Darcy Lang is yet to be offered a new contract and will explore his options, Lucas also told SEN. Meanwhile Hawthorn speedster Billy Hartung is exploring his options, but there is a "real possibility he remains at Hawthorn"
For more trade news, visit the NAB AFL Trade Hub, brought to you by Anytime Fitness.