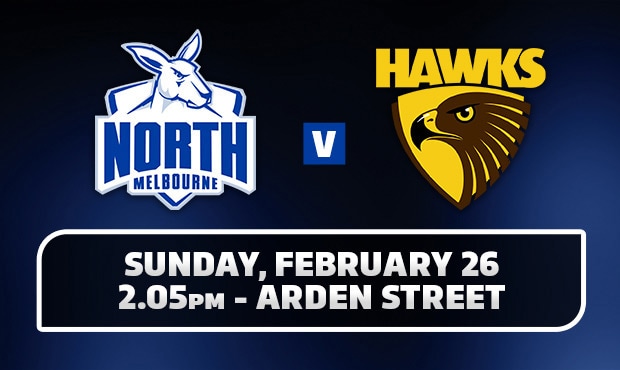 North Melbourne v Hawthorn
Sunday, February 26, 2017
2.05pm EDT
SOLD OUT
Match details
Venue: Arden Street Oval, North Melbourne (Melways ref 43 C4)
Gates open: 12pm
Game commences: 2.05pm
Ticketing
North Melbourne's historic pre-season clash at Arden Street is a sell-out.
No membership scans or tickets will be available on match day, with only pre-purchased ticket holders to be admitted entry.
Parking/public transport
There will be no parking available for this match. We encourage all patrons to use public transport.
There will be free shuttle buses running from North Melbourne Train Station to the Macaulay Road entry gate.
Trains
The Craigieburn, Sunbury, Upfield, Werribee and Williamstown lines all go through North Melbourne Train Station and will be running to a normal Sunday timetable.
Shuttle busses
Running every 10 minutes from North Melbourne Train Station to the Macaulay Road entry gate, from 11.30am – 2.00pm and then 4.00pm – 5.00pm.
Trams
The following tram lines travel along Flemington Road, which is a short 15-minute stroll to Arden Street Oval
- 55 – West Coburg
- 57 - West Maribyrnong
- 59 – Airport West
Tram 57 also runs along Abbotsford Street, with stop 15 intersecting Abbotsford and Arden Street.
Access/road closures
Gate locations
Macaulay Road is the main entry gate and we encourage all patrons to utilise this entry.
There will be a secondary gate located near the city.
We strongly encourage patrons to use the Macaulay Road entry point as it is larger and you will get into the ground faster.
Security will be checking bags at each gate so please have these ready to ensure a fast entry process.
Disabled access
Attendees that require disabled access are encouraged to contact the club on (03) 9320 2400 to discuss the logistics. The best entry gate for disabled patrons is the Macaulay Road entry gate.
Road closures
Road closures will be in place from 6.00am until 8.00pm in the following locations.
- Fogarty Street
- Green Street
- Arden Street car parks on the northern side of the street between Fogarty Street and Macaulay Road
- Macaulay Road car parks on the southern side of the street from Arden Street to Fogarty Street
Boundary Road closure
Boundary Road will be closed on Sunday due to Tulla Widening works.
Women's match free entry
The gates at Arden Street will be opened at the conclusion of the JLT Community Series match, with free entry for anyone wishing to watch the women's match.
North's own team, made up of players from VFL Women's Melbourne University Women's Football Club (MUWFC) and a select group of players from Tasmania will play the Darebin Falcons.
The match will begin at around 4.45pm.
Membership
North Melbourne
A North Melbourne membership outlet will be located near the Indoor Basketball court/old players race.
The Reception will also be open for membership queries and sales but will only be accessible from Arden Street – no thoroughfare to the oval.
Hawthorn
A Hawthorn membership marquee will also be on-site.
Merchandise
North Melbourne
North Melbourne merchandise outlets will be located in the following areas;
- The Roo Shop (only accessible from Arden Street – no thoroughfare to the oval)
- Near the Arden Street entry gate
- Near the indoor basketball court/old players race
Hawthorn
A Hawthorn merchandise outlet will also be on-site.
Facilities
Viewing (trees)
The Club and Council will not be removing or pruning any trees around the oval as they are important to the flora and fauna of the area.
Seating
There will be no seating brought in for this event. It will be predominantly standing room only, similar to the JLT Series games in rural locations.
Food & beverages
There will be various food outlets on-site, including hot and cold food vans, ice cream trucks, coffee vans and beverage outlets.